Tim Burton's film Big Fish opened to less than enthusiastic reviews and box office in 2003. It probably wasn't weird enough for die-hard Burton fans even though among the cast of characters was a witch, a giant, a mermaid, and a werewolf. Ten years later John August turned his script into a Broadway musical. It fared even worse, running for just 34 previews and 98 performances and being shut out of the Tony Awards despite the contributions of former Tony winners and Broadway favorites choreographer/director Susan Stroman and star Norbert Leo Butz. Musical Theatre West in Long Beach presented the West Coast Premiere last November in a well-received production. Now Moonlight Stage Productions in Vista and director Steven Glaudini have mounted an even more stellar outing.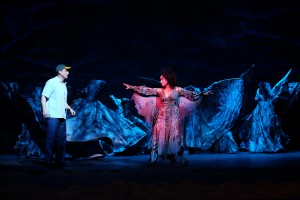 Josh Adamson and Shirley Johnston (photos by Ken Jacques Photography)
Big Fish is a truly heartfelt story of a father and son trying to communicate with each other. It's the story of a boy's skepticism of his father's bravado and of a father's longing to connect with a son whose growing up he mostly missed due to his job as a traveling salesman. It's also the tale of a man's joy for life and adventure and his impassioned affection for the woman he loved from the moment he first saw her. That moment is beautifully set to music by composer Andrew Lippa in "Time Stops." That is one of many memorable songs in the score, which is one of the best Broadway has produced in the past few seasons. The music is very melodic and the lyrics add extra depth and layers to the storytelling. Musical director Elan McMahan and her fourteen-piece orchestra really did a great job from the pit which was covered in a set piece representing an Alabama river often inhabited not only by a big fish but by a mermaid (Kim Taylor) who was under a curse that could only be lifted by a kiss, which Edward was happy to provide.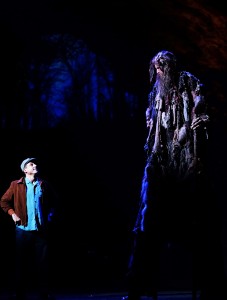 Josh Adamson and Dustin Ceithamer
That is one of the tall tales told by Edward Bloom (a truly dynamic and multi-faceted Josh Adamson) to his young son Will (Elliot Weaver). There is also his spooky and fateful meeting with a local witch (a vibrant Shirley Johnston) who shows him how he will die and with an agoraphobic giant (Dustin Ceithamer). Edward and Karl the Giant go on the road and join the Calloway Circus run by Amos (Cris O'Bryon), a real howler of a ringmaster. Edward finally meets his love, Sandra (Bets Malone), and declares his love in a field of "Daffodils," one of the most romantic Act One closers ever staged.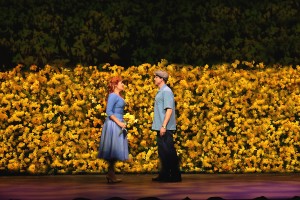 Bets Malone and Josh Adamson
The adult Will (Patrick Cummings), soon to be a husband and father himself, tries to decipher his father's stories. He counts 36 in all although some are variations of others and some are just jokes. Will has a deadline since his father has inoperable lung cancer. It's Will's discovery of the embellished truth which is the real catch in the throat moment here. He realizes his father didn't create the stories to make himself seem like a Big Fish, but rather to inspire his son to be his best. Cummings and Adamson really make the best of their reconciliation.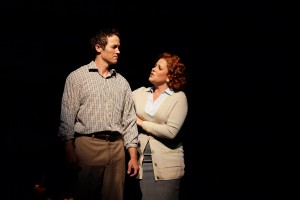 Patrick Cummings and Bets Malone
Adamson possesses great charisma and chutzpah and really makes the tall tale telling Edward a lovable and heroic character. His strong singing voice really powers the show's anthems "Be the Hero" and "Fight the Dragons." Cummings is wonderful as the doubting, questioning son and his solo "Stranger" is well delivered. Malone creates a lovable and loving wife and mother. Her "In My Life" and most especially "I Don't Need a Roof" are truly touching moments. The large supporting cast winningly plays a multitude of roles.
Glaudini's deft direction conveys all the laughs as well as all the heartwarming moments effortlessly. Karl Warden's choreography is fun throughout and the big tap number "Red, White and True" truly delivers the goods. William Ivey Long's original Broadway costumes are colorful and truly amazing at times. John Infante's projection design is a star unto itself. Shown on the large screen upstage, the projections place the audience right into the picture. Jean-Yves Tessier's lighting and Chris Luessmann's sound design are very well executed. It's worth the drive to Vista to see and enjoy this show under the stars on a balmy late summer evening. Don't miss your chance!

Moonlight Amphitheatre, 1200 Vale Terrace Dr. in Vista. Ends Sept. 26. 760-724-2110 or www.moonlightstage.com