Erica Lustig and Marc Ginsburg (all photos by Jason Niedle)
First dates are never easy. Even if you have been on many like Casey (Erica Lustig) or are on your first like Aaron (Marc Ginsburg). The audience is invited along on Casey and Aaron's First Date at an upscale New York restaurant in the charming and entertaining new musical by Austin Winsberg (book) and Alan Zachary & Michael Weiner (music and lyrics), receiving its Southern California Premiere courtesy of McCoy Rigby Entertainment at the La Mirada Theatre for the Performing Arts.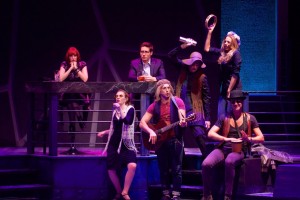 The 90-minute intermission-less show zips along briskly thanks to the tight direction of Nick DeGruccio. A five-person ensemble play other diners as well as fantasy figures for Casey and Aaron, like her sister (Stacey Oristano) and his best friend (Justin Michael Wilcox) who is married to the sister. They were the ones who fixed Casey and Aaron up on this blind first date and offer helpful and not-so-helpful advice as the date progresses. Among other roles, Kelley Dorney plays Allison, Aaron's former fiancé who left him at the altar. Leigh Wakeford plays Casey's bail-out friend in some hilarious musical snippets. Scott Dreier plays the blasé waiter who has seen it all but still enjoys watching. The entire cast is talented and they make if a fun and enjoyable evening in the theatre.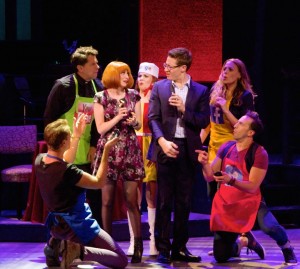 The 17 songs range from ballads to up tempo comedy numbers, from "First Impressions" to "The Awkward Pause." There is a topical number, "Forever Online," where Google, Facebook, You Tube etc. come back to haunt our daters. Casey reminisces about her past fascination with bad boys while they rock out to "That's Why You Love Me." Aaron has a touching song with his mother, "The Things I Never Said," and banishes Allison from his thoughts in the revenge-filled "In Love With You." Dreier has a show-stopping "I'd Oder Love" as the singing waiter. It's a varied and catchy score, played wonderfully by the six-piece band led by musical director/conductor/keyboard player Brent Crayon. Lee Martino added some really snazzy choreography to the proceedings. The tech elements—Stephen Gifford's scenic design, Thomas G. Marquez's costumes, Steven Young's lighting and John Bessom's sound are all top tier.

La Mirada Theatre for the Performing Arts, 14900 La Mirada Blvd. in La Mirada. Ends Oct. 11. 562-944-9801 or 714-994-6310 or www.lamiradatheatre.com