Since its debut in 1964, there have been many major theatrical stars that have taken on the title role in Jerry Herman's blockbuster musical Hello, Dolly!–Ethel Merman, Ginger Rogers, Phyllis Diller, Martha Raye, Bibi Osterwald, Mary Martin, Carole Cook, Eve Arden, Dorothy Lamour, Sally Struthers, Pearl Bailey, Carol Channing, Jo Anne Worley and Karen Morrow among others. This reviewer has seen the last four named ladies as well as local Southern California thespians Debbie Prutsman and Melinda Gilb in that role. Even though Ms. Channing has supposedly logged over 15,000 performances in the role, each performer brought their own personality to the role and made it work for them. The same holds true with the newest Dolly on the scene, Cynthia Ferrer, who is currently strutting her stuff with elan and panache to spare at The Welk Resort Theatre in Escondido.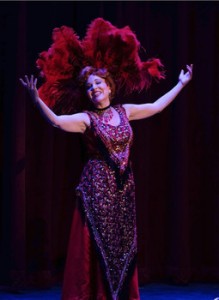 Cynthia Ferrer as Dolly Levi (photos by Ken Jacques)
Ferrer sparkles from her first entrance with "I Put My Hand In" as she announces herself as a "meddler," a know-it-all who has a business card for every occasion. Her sly comic wit is easily displayed throughout and her singing and dancing are top drawer. Randy Doney as Horace Vandergelder, the well-known half-a-millionaire from Yonkers, makes a good foil for her. His gruff demeanor may make his niece and young employees cower before him, but he is no match for Dolly's machinations. She keeps so many plot balls in the air she could have a career as a juggler. The two stars play off each other very well and their eventual rapprochement and happy ending is well grounded.
Scott Arnold as the 23-year old Chief Clerk Cornelius, who has never kissed a girl, and Andrew J. Koslow as Barnaby, his 17-year partner in adventures with a fixation on a stuffed whale, make a great comic duo, showing some well staged physical comedy. Charlene Koepf, as the young widow Irene Molloy, possesses a lovely voice she displays winningly in "Ribbons Down My Back" and in her duet with Arnold on "It Only Takes a Moment." Bailey Sonner as her excitable assistant adds comic relief.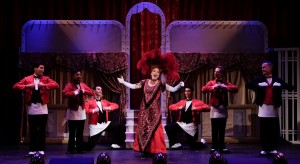 Dolly and the waiters at Harmonia Gardens
Director Ray Limon's swift pacing keeps the show moving smoothly and briskly and there is never a dull moment. His choreography is top notch with big production numbers such as "Put on Your Sunday Clothes," "Dancing," "The Waiters Gallop" and the title song eliciting loud and sustained applause. His talented ensemble of dancers gives their all and truly deserved the applause and standing ovation. Musical Director Justin Gray led the four-piece band from the pit, making the score sound big and brassy.

Welk Resort Theatre, 8860 Lawrence Welk Dr. in Escondido. Ends Nov. 15. 1-888-802-SHOW or box.office@welkresorts.com