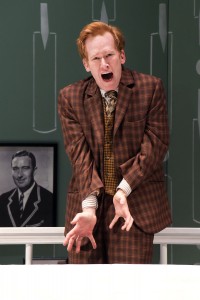 Dan Donohue (all photos by mellopix.com)
If you want to laugh until your sides ache, get to South Coast Repertory before October 11 to see One Man, Two Gunvors, probably the funniest show of the year to be seen in Southern California. Richard Bean based his madcap farce on Carlo Goldoni's commedia dell'arte classic The Servant of Two Masters. He has re-set the action on and around the piers of Brighton in the swinging Sixties and it fits perfectly in the new setting thanks to the inspired direction of David Ivers. There is some improv in the masterful hands of leading farceur and clown extraordinaire Dan Donohue, a talented cast of comic actors, an on stage skiffle band The Craze, mistaken identities, cross-dressing and lots of delicious looking food, including flaming Crepes Suzette.

William Connell and Dan Donohue
Underworld figure Roscoe has recently been murdered, or has he? He, or is it his twin sister Rachel (Helen Sadler), shows up for his engagement party to the blonde and empty-headed Pauline (a wonderful turn by Sarah Moser) to collect a debt from her smalltime gangster father (Robert Sicular). Roscoe's henchman Henshall (Dan Donohue) also shows up and that is when the merriment swings into high gear. Besides working for Roscoe, Henshall soon finds himself also employed by the studly Stanley (William Connell). Trying to keep all his job duties straight while suffering hunger pangs does the poor guy in. Throw in a Latin spouting lawyer (John-David Keller), his wanna-be actor son (the hilarious declaiming Brad Culver) who is in love with Pauline, an efficient bookkeeper (Claire Warden) and the plot continues to boil and thicken.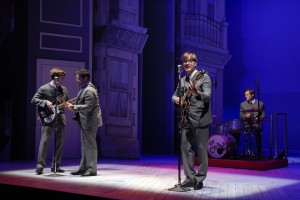 The Craze
The first act ends with the brilliant staging of two dinner parties gone horribly wrong and features the physical comic talents of Louis Lotorto and Danny Scheie. Scheie also delivers one of the funniest opening spiels about cell phone usage and emergency exits to set the tone for the shenanigans to follow. The second act wraps everything up swiftly and the right couples all get happily entwined.

South Coast Repertory, 655 Town Center Dr. in Costa Mesa. Ends Oct. 11. 714-708-5555 or www.scr.org