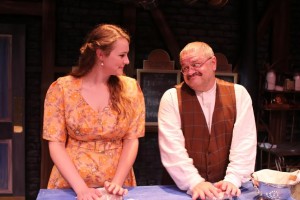 Chelle Denton and Greg Baldwin (all photos by Lindsay Schnebly)
The Baker's Wife has been one of my favorite musicals since I saw the World Premiere as part of the 1976 Los Angeles Civic Light Opera season. From its very beginnings it was tagged as a "problem show." The leading lady was fired after opening night and Patti Lupone was hired as her replacement. When I saw the show a few days after opening, understudy Teri Ralston had been thrust into the role of Genevieve and it was her voice I heard first deliver one of the musical theatre's greatest songs, "Meadowlark." That was but one of the many gems in Stephen Schwartz's lyrical score. The score so fascinated me, I put together a "mini" version during the 1991 Robby Awards at the Pasadena Playhouse featuring Teri Ralston, Michael G. Hawkins and Brian Lane Green. The pre-Broadway tour continued to San Francisco and Washington but never made it to Broadway, losing star Topol along the way. He was replaced by Paul Sorvino and he, Ralston, LuPone and Kurt Peterson recorded a cut down version of the score which became a cult classic. Several revivals have messed with both the book and the score, first in Santa Barbara in 1984, then at Los Angeles' Coast Playhouse and at the Papermill Playhouse. In my opinion, the revisions only made the book worse. Bookwriter Joseph Stern died in 2010 and I keep hoping someone will eventually restore the book to its better beginning.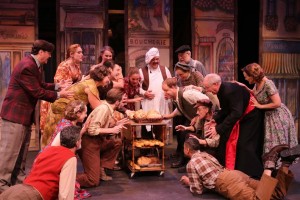 Actors Co-Op is currently presenting a revival of this rarely performed show. The story is a simple one, based on Marcel Pagnol and Jean Giono's 1938 French film La Femme de Boulanger. A small town in rural France has been without a baker for many weeks and what is a Frenchman without his bread. The townsfolk are an argumentative group as it is, with long standing feuds between some of the menfolk. Finally baker Aimable (Greg Baldwin) arrives along with his new and much younger wife Genevieve (Chelle Denton). The town, led by M. le Marquis who is the Mayor (Christopher Maikish) and M. le Cure, the village priest (Tim Hodgin), welcome them with open arms. The baker's creations are an instant hit but his young wife attracts a lot of gossip and the unwanted attentions of the Marquis' studly chauffeur Dominique (Nick Echols). Unfortunately in the revised book, the townspeople have more backstory than the three leads. Motivation for their actions is sorely lacking. Except for a lyric line in "Gifts of Love," you never really learn why Genevieve married the older Aimable. They have a prickly relationship but you are never given a solid clue as to why. In the original book, Aimable saved her from a scandal in their small town, her affair with a married man. Now they arrive from Marseille, a large city where such a scandal would not be noticed. The lyrics to Dominique's "Proud Lady" have been leached of their lechery and he comes across as a love struck puppy, not a womanizer who is in love for the 23rd time as he was in the original version. Their second act duet "Endless Love" has been cut except for a brief instrumental interlude so you never see the adulterous couple interacting until Genevieve decides to leave Dominique with the plaintive "Where is the Warmth?" The first act finale feels anticlimactic, ending now a scene and a song after the powerful "Meadowlark." The score that remains is still lovely and beautifully played by the five-piece band led by music director and conductor Jake Anthony. But where is the subtext, where are the characterizations that should give depth to the love triangle?

Chelle Denton and Nick Echols
The large cast is in fine voice and director Richard Israel has given the show a lively touch. Unfortunately Julie Hall's choreography mostly consists of the villagers doing a kick line across the stage while hoisting bread products over their heads. Maikish is slyly smooth as the randy Marquis who lives with his three "nieces" to the consternation of his villagers. Treva Tegtmeier provides some spark as Denise and delivers a lovely "Chanson." If you have never seen The Baker's Wife and are unfamiliar with this beautiful score, by all means, see this production. I at least have my memories of nearly 40 years and that original cast album.

Actors Co-Op,1760 N. Gower St. in Hollywood. Ends Oct. 25. 323-462-8460 or www.actorsco-op.org