Bruce Kimmel, Adryan Russ and Kritzerland celebrated their fifth anniversary in high style on Sunday, September 6 at Sterling's Upstairs at the Federal in North Hollywood. The 61st consecutive monthly gathering of show tunes and their aficionados was a jam packed evening of musical delights, played to a capacity crowd. Host Kimmel started the evening off with a brand new "What If" parody written for the occasion. What if, instead of writing Pacific Overtures, Stephen Sondheim had written Peter Pan. The result was a very funny take on "The Advantages of Floating in the Middle of the Sea" but featuring Jenna Lea Rosen as Peter, Brennley Brown, Hadley Miller and Sami Staitman as Wendy, Michael and John (not necessarily in that order) and Robert Yacko as Captain Hook. Three other Kimmel penned tunes from his 1978 musical Stages were sung by Tony Award winner Sammy Williams, who was in the show's original cast. It was a real treat to see Mr. Williams on stage again. Sami Staitman returned and sang and signed "Note to Boys," which she will be performing in Welcome To My World, a new one teenage girl musical created by Kimmel which opens in Burbank on September 12. Robert Yacko also delivered a new Kimmel tune, "C.C. Brown's," which was written for a new show about Los Angeles, past and present, and will premiere at L.A. City College in 2016. I think everyone wanted a hot fudge sundae after this number.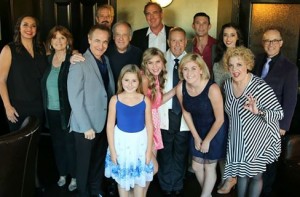 The talents aligned for Kritzerland's 5th Anniversary (photo by Karen Staitman)
Damon Kirsche crooned his way lovingly through the Gershwin's "Liza," and had fun portraying a sleazy theatrical agent singing "Ten Percent," a character and a song both cut from the Kander/Ebb Chicago. Kirsche also did a charming duet with Darcie Roberts on "Better than a Dream," from the film version of Bells Are Ringing. Ms. Roberts, who toured with Tommy Tune in the Sherman Brothers musical Busker Alley, did a lovely job with "He Has a Way" from that show that never did make it to Broadway. Mr. Yacko did a wonderful job with the haunting title tune to the little known Time and Again, a show I happened to see at San Diego's Old Globe in 1996. It also never made it to Broadway. Eleven year old Hadley Miller did a stellar job with the tongue-twisting Dr. Seuss lyrics of "The Dressing Song" from the film The 5000 Fingers of Doctor T, while young Brennley Brown sang an enchanting version of Sondheim's "Not While I'm Around" in honor of her newborn baby brother.
Kimmel spared no expense for his anniversary blowout, offering two Guest Stars. Jason Graae did his madcap Maurice Chevalier impersonation with "Mimi," often singing to the reflection of his me me in a mirror. Then he turned serious and sang a heartfelt rendition of "She Touched Me," a gorgeous ballad from the 1965 Broadway flop Drat! The Cat! The incomparable Sharon McNight had the crowd laughing uproariously as she sang "Haiku" but later had them cheering "Brava" for her masterful and unique take on the Gershwin standard "The Man I Love." Kimmel, as always, was a font of information on the tunes and the shows and it's unbelievable that this song was cut from at least three Broadway shows before it finally was "discovered."
Jenna Lea Rosen did a put-together of two rain songs, "Here's That Rainy Day," from the 1953 6-performance Broadway flop Carnival in Flanders, and "Now When The Rain Falls," which never did make any version of Frank Wildhorn's long running Broadway musical The Scarlet Pimpernel, only the concept album. Rosen's lovely voice made both songs sound like real winners. Darcie Roberts closed out the show by belting "Don't Rain on My Parade" to the skies. No worry there, even in the worst California winter, no rain could dampen the talents of this troupe of performers. Musical director/pianist John Boswell did his usual superb accompaniment and a good time was had by all.