These Paper Bullets!, currently receiving its West Coast Premiere at the Geffen Playhouse, is subtitled "a modish ripoff of William Shakespeare's Much Ado About Nothing." And that is just what it is as Carnaby Street and London in the Swinging Sixties meet the bard as well as the Beatles. Playwright Rolin Jones has ingeniously taken Shakespeare's characters, plot and at times dialogue and smushed it up into a madcap romp of an outing. He keeps Shakespeare's style of writing intact although his words are much more modish and the result will have you chuckling with glee at the witty wordplay most of the time, although he does permit a few groaners to surface such as "ring-oh" at the wedding ceremony.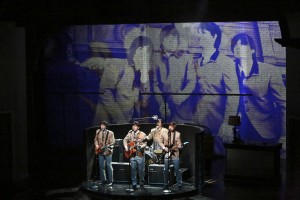 Damon Daunno, Lucas Papaelias, James Barry and Justin Kirk (all photos by Michael Lamont)
The main protagonists here are Ben (Justin Kirk), the leader of a Fab Four group of English Rockers known as The Quatros, and Bea (Nicole Parker), the leading fashion designer of mini-skirts and other modish attire. They profess undying hatred for each other but their friends know that is just a ruse and are determined to bring them together. Ben's bandmate Claude (Damon Daunno) falls madly in love with pill-popping model/heiress Higgy (Ariana Venturi) and proposes marriage.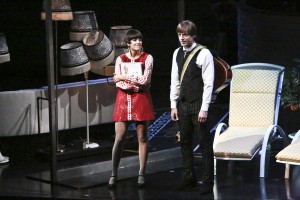 Nicole Parker and Justin Kirk
Unfortunately Claude has an enemy in former Quatros drummer Don Best (Adam O'Byrne). Best is more upset with how he was dismissed from the band than the fact that he was dismissed and replaced with his half-brother Pedro (James Barry). He plots with tabloid writer Boris (Rod McLachlan) to place Higgy's face on the body of a girl in some very compromising photos they stage. He presents the photos to Claude on the eve of his wedding and as a result Claude denounces Higgy at the altar, in front of the Queen (Christopher Geary) and all their friends. Her friends plot to revenge themselves on Claude by faking Higgy's death and on and on the plot boils.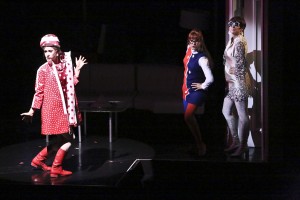 Ariana Venturi, Kate Blumberg and Nicole Parker.
Fortunately the inept Mr. Berry (Greg Stuhr) of Scotland Yard and his dogged aides Mr. Urges (Brad Heberlee), Mr. Crumpet (Geary again) and Mr. Cake (Tony Manna) save the day when they inadvertently record the plot while bugging The Quatros' penthouse looking for evidence to quash the modish rockers perceived musical mayhem on the youth of England. The cast gives their all to the proceedings. Jackson Gay's direction and Michael Yeargan's turntable scenic design keeps the action flowing swiftly. Coming in at nearly 2 hours and 40 minutes with one intermission, the show is overly long and some cuts desperately need to be made to speed things up. The antics of the Yard's buffoons could easily be trimmed as well as some of the over-the-top gross out comedy bits. The best humor is in the wicked wordplay, not the slapdash slapstick shenanigans. Jessica Ford's costumes are very Carnaby Street and fun to see paraded about the stage. Paul Whitaker's lighting and Broken Chord's sound design are both top notch. Making the show even more fun are the very Beatle-like songs written by Billy Joe Armstrong.

Geffen Playhouse, 10886 Le Conte Ave. in Los Angeles. Ends Oct. 18. 310-208-5454 or www.geffenplayhouse.com