The mind of a fourteen-year-old girl is a wonderful, marvelous, filled-to-the-brim and often confusing world. Yet somehow writer/composer/lyricist/director Bruce Kimmel, a man of a certain age, (I think his character Molly would love to call him a sexagenarian because of how it sounds) does just that in the World Premiere musical Welcome to My World. Molly is a vivacious, curious, mature for her age, intuitive girl who doesn't have a filter button and babbles on and on about topics that consume her young life.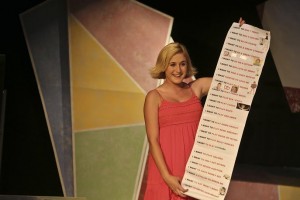 Molly's List (all photos by Michael Lamont)
These include:
boys,
a new and complicated way to do simple math,
snacks,
her 48-year-old mother who would rather be her 14-year-old-friend,
boys,
fair-weather friends,
flaming Cheetos,
singing,
boys,
sex education for twelve year olds with repetitious use of the P word and the V word,
pizza,
prom,
boys,
hookahs or is it hookers,
skittles,
fruit is not a snack,
boys.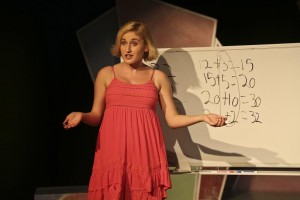 Molly with a math problem
Kimmel's tight direction keeps the show moving along at a fast clip and the 85 minutes just seem to fly by as Molly takes us on a tour of her world. Rei Yamamoto has designed a set of bright geometric shapes that snap, crackle and pop with color. Ken Patton designed the costumes which include two really quick and near magical changes. Adam Rayzor's lighting design is sunny and cheerful except for the scary lighting in "The Dissection of the Frog" number, an audience participation hoot of a sequence.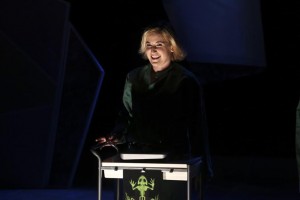 The Dissection of the Frog
Kimmel has seemed to have found his teenage muse in Sami Staitman who completely captivates and charms her audience and keeps their focus on her every move and thought. She delivers the jokes with an easy touch and her seemingly off-the-cuff looks of "whatever" she throws in the direction of her on-stage musical director/accompanist Alby Potts (excelling at both throughout) when he throws in his two-cents are delightful. Staitman's poise and lovely voice really sell the musical numbers.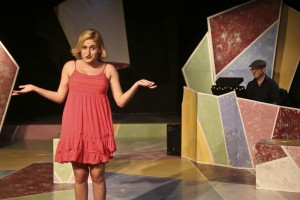 Sami Staitman and Alby Potts
The baker's dozen of songs Kimmel has written for the show run the gamut from peppy and upbeat–a teenager's "I Want" list to an ASL signed "Note to Boys" to the jubilant "Let Me Sing." There's a paean to every young girls dream of a stage role in "Annie." There is also a tribute to the Silver Screen's Fred Astaire and Gene Kelly, "Dancing With Me," featuring an exuberant tap dance choreographed by Cheryl Baxter-Ratliff. There are a few heartfelt ballads sprinkled into the mix, especially the touching "He Was Grandpa."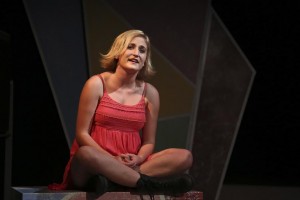 I would be remiss not to mention Molly's very funny opening spiel about cell phone etiquette in the theatre. Who better to lecture an audience about cell phone usage than a teenage girl. Ms. Patti Lupone would be very proud. Mr. Kimmel, Mr. Potts and especially Ms. Staitman should be very proud of their work here. Thanks for inviting us to take of tour of Molly's world.

Grove Theatre Center, 1111-B W. Olive Ave. in Burbank. Closes Oct. 4. 323-960-7787 or www.plays411.com/world