Producers Bruce Robert Harris, Jack W. Batman and The Transfer Group have added a few more producers and have turned Carrie The Musical, presented in March at the La Mirada Theatre for the Performing Arts, into Carrie The Killer Musical Experience at the Los Angeles Theatre in downtown Los Angeles. The production and the effects are larger and work very well in the expanded seating configuration on the stage of the venerable theatre. The creative team as well as most of the cast have returned in director Brady Schwind's even bigger "immersive production."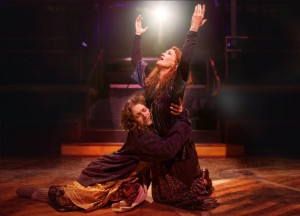 Emily Lopez and Misty Cotton (all photos by Jason Niedle)
It still is not that immersive that you need to wear a raincoat to the prom to avoid pig's blood splatter but it is a very impressive staging of this still flawed musical curiosity. The audience is seated in bleaches on the stage–four groups in "pods" are shifted about from time to time giving them a different up close view of the action as well as changing the configuration of the main playing space. The look, sound and feel of the show make it a truly unique experience. Stephen Gifford's two-level scenic design easily conveys the musical's many settings with just a few carried-on pieces of furniture. True stage magic is created when the curtain rises on the "Springtime in Venice" prom setting. Brian Gale's lighting and projection designs are still state of the art. Adriana Lambarri's costumes aid greatly in creating character. Paul Rubin choreographed the flying sequences and they are even more breathtaking here. Lee Martino's choreography is top notch and one of the show's main assets. Her young cast of high school kids seem to be in constant motion and those steps are never repetitious; instead they are constantly evolving. Musical director Brian P. Kennedy and his seven-piece off-stage band play the score full out. Cricket Myers' sound design creates some great effects but unfortunately it is out of balance at times and the band overpowers the vocals. Not having the correct body mics turned on at the proper time was also a problem at the performance I attended.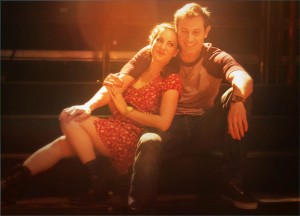 Kayla Parker and Jon Robert Hall
Although visually stunning, the show remains a flawed piece of theatre–the main problem being Lawrence D. Cohen's book. Here the characterizations he created for the film are thinned out to make space for the musical numbers–25 in total including the reprises. However the performances are stronger now that the cast has had time to grow into their characters. Emily Lopez gives a beautifully nuanced performance as Carrie White. Misty Cotton is a true force of nature as she takes religious fervor to new and very scary heights as the mother from hell, Margaret White. She is on full throttle throughout in a no holds barred performance. It is a bravura star turn by a true theatrical diva. Kayla Parker has really grown into the role of Sue and that makes this version more touching. Jon Robert Hall as Tommy and Jenelle Lynn Randall as Miss Gardner each make the most of their moments. The balance of the cast performs well but don't have much to work with.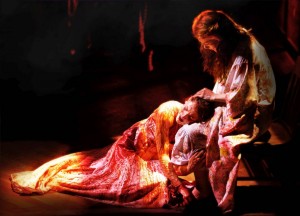 Emily Lopez and Misty Cotton
The show's score, with music by Michael Gore and lyrics by Dean Pitchford, seems better when heard the second time around. High points are the few lovely ballads sung well—"Unsuspecting Hearts" by Randall and Lopez and "Dreamer in Disguise" by Hall. Cotton tears through her hysterical hellfire and damnation numbers such as "Open Your Heart," "And Eve Was Weak," and "I Remember How Those Boys Could Dance" with bravado and chutzpah to spare. I'm still not sure the problems with Carrie The Musical will ever be completely solved but this high tech Killer Musical Experience does manage to disguise them very well. Money was well spent bringing director Brady Schwind's vision to life.

Los Angeles Theatre, 615 S. Broadway in Los Angeles. Ends Nov. 22. experienceCarrie.com or 1-888-596-1027