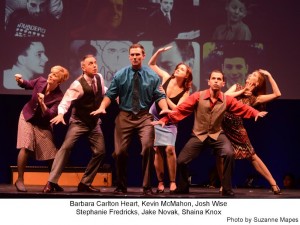 If you have been a reader of my reviews over the past several decades, you know that I am one of those people who think Stephen Sondheim is God. A New Yorker magazine cover once posited that idea and it shows up in the in depth video package (created by Peter Fleherty) that comprises a large portion of the James Lapine creation Sondheim on Sondheim. The show, making its Los Angeles debut at Long Beach's International City Theatre, contains lots of interview footage with The Master, some ancient (The Mike Douglas Show, 60 Minutes) but most created specifically for this show. Sondheim shares facts from his life as well as his work and then a very talented cast of six performers bring his songs brilliantly alive. Sondheim's lyrics demand attention to detail—they can't be mumbled or even just sung, they must be acted. That is accomplished very well here, under the direction of DJ Gray who lets the songs breathe. Sondheim's music demands the same detailed attention and the four-piece band under the superb musical direction of pianist Gerald Sternbach achieves that. Many of the well-known songs have new arrangements (by Michael Starobin) and different interpretations because of gender swapping from how they were originally performed in their musicals. In short, if you are a fan of quality musical theatre, you should see this production. If you are a Sondheim aficionado, you MUST see this show or forever hang your head in shame. The show easily serves as a living companion to the two Sondheim penned anthologies Finishing the Hat and Look I Made a Hat which were subtitled Collected Lyrcis with Attendant Comments, Amplifications, Dogmas, Harangues, Digressions, Anecdotes and Miscellany.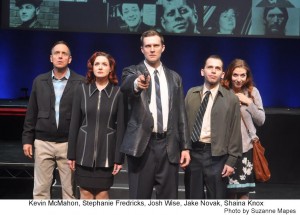 Each cast member gets a chance to shine in solos and they partner up and mix it up and their voices blend together perfectly. This is beautifully realized in the staging of "Happiness" from Passion which gives the song the added depth of realizing how fleeting happiness can be. Stephanie Fredricks delivers heartbreaking renditions of "Good Thing Going" and "Not a Day Goes By" and then really gets to kick up her heels with the boys performing "Ah, But Underneath," written for the London production of Follies and its star, Dame Diana Rigg. Barbara Carlton Heart breaks your heart with her soulful "Losing My Mind" and "Loving You." Shaina Knox's lovely soprano is put to good use in "The Wedding is Off," an early version of "Getting Married Today" from Company. She also shines in the female trios of ""Now You Know" and "Love Is in the Air." Kevin McMahon's singing has matured into masterful storytelling and "Being Alive" and "Finishing the Hat" are gems in his capable hands. Jake Novak brings the required manic energy to "Franklin Shepard, Inc" before delivering a heartfelt "Beautiful". Josh Wise supplies the menace in "Epiphany" and the bitter irony needed in "Happily Ever After."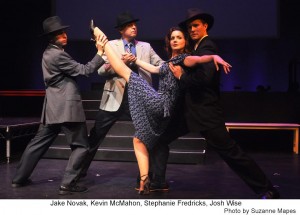 There is something for everyone in this show, including a Sondheim song this viewer had never heard before. It was a song written (with Jule Styne) for Ethel Merman to sing as a solo in Act Two of Gypsy. It was performed just once before being cut because it slowed down the action of the show. Here Ms. Heart joyfully delivers "Smile, Girls." Ms. Heart also gives a fine rendition of Sondheim's only true Billboard hit, "Send in the Clowns". Tom Ruzika's lighting and Kim DeShazo's multiple costumes help the performers set the proper mood. But make no mistake, Stephen Sondheim is the real star of this show. Everyone else involved just polishes the gold contained herein. And they do it very well.

International City Theatre, 300 E. Ocean Blvd. in Long Beach. Ends Nov. 8. 562-436-4610 or www.internationalcitytheatre.org