The Pasadena Playhouse is currently presenting the World Premiere of a new musical, Breaking Through, with a book by Kirsten Guenther and music and lyrics by Cliff Downs & Katie Kahanovitz. There is a lot of vocal talent on the stage and a lot of money has been spent producing an aural and visual spectacle. I wish I could say the results justified all the effort. Guenther's book is basically an update of the A Star is Born formula, but in this case the outcome is more stillborn. Guenther has transferred the plot to reflect today's music industry in New York, sort of the Streisand/Kristofferson film on steroids.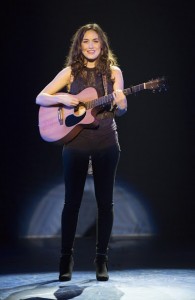 Allison Luff (all photos by Jim Cox Photography)
Charlie Jane (Alison Luff) is a young singer/songwriter, more of a folk singer/personal story teller along the lines of Joni Mitchell. She is desperate for a recording contract and calls in a favor from Amanda (Nita Whitaker), a friend of her mother's (a former singer long absent from the scene due to drug and alcohol addiction). Amanda likes the songs but isn't crazy about the Charlie's act so she pairs her with current rock superstar Scorpio (Matt Magnusson). Jed (Robert W. Arbogast), the Mephistophelean head of the label, offers Charlie a deal–record a song he chooses for her and when it's a hit, he'll record one of hers. But she will need to make changes to her appearance and attitude. Will Charlie sell out for fame and fortune? Does the sun rise in the East?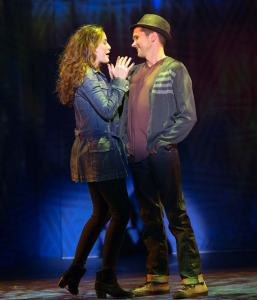 Allison Luff and Will Collyer
Smith (Will Collyer), the cute, sensitive and supportive craft services guy that falls for Charlie, acts as the Voice of Reason, but he is soon discarded for a made-for-the-media faux romance between Charlie and Scorpio. Neither man takes on the role of Norman Maine however. Instead that plot point is given to Karina (Kacee Clanton), an older star at the label and Scorpio's most recent ex-lover. Not gaining a Grammy nomination leads to an immediate downward spiral for Karina that will be familiar to those who know the original source material.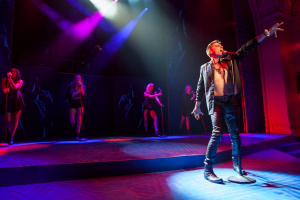 Matt Magnusson
Guenther's script is so illogical at times that it seems to veer into sci-fi or fantasy realms. Sheldon Epps' direction doesn't do much to reign in the silliness. Here are some examples. At a party, Charlie finds Karina sitting alone at a piano, plunking out a new song. When Karina rises to go center stage to sing the rest of this song she was just creating, Charlie sits down at the piano and accompanies her. There is a ludicrous subplot regarding Charlie's lesbian roommate Gwyn (Teya Patt) and her on-again, off-again affair with her married-to-a-man boss. It's also absurd that the controlling record label would continue to let Charlie and Gwyn be roommates after Charlie's success. There is a lot of talk about Charlie's mother that leads to nothing. Then there is this big production number, featuring steampunk courtiers, for Charlie and Scorpio's first record that is not the type of song the record label would be pushing and that Scorpio would ever be a part of, yet Charlie is the only one who objects. The record label changes Charlie Jane's name to Charlie Slate yet everyone still refers to and calls her Charlie Jane. When Charlie finally rebels, it's at a sold out Radio City Music Hall. She stops a big production number, takes center stage with just her acoustic guitar and starts to sing one of "her" songs yet her onstage concert band joins right in.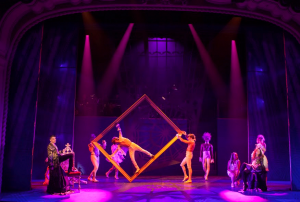 The steampunk courtiers staging of "The King and Queen of Everything"
Tyce Diorio's choreography is frenetic and mostly pointless. The chorus is used more to fill the stage and do gymnastic bumps, grinds and lifts than anything else. They are brought into what rightly should be solo spots just to justify having a chorus. There are a few good songs in the score by Downs & Kahanovitz but most seem written to showcase the vocal talents of the cast, not to advance character or plot. Luff and Clanton possess great voices and really sell their numbers. The entire cast sings well, you just wish they had something better to sing. All the arrangements by David O. are overblown and the above the action on-stage band is way too loud most of the time, even in the quiet songs. There is so much fog/mist produced during the show, you can't see the back rows of the theatre from down front at intermission. But it does make Jared A. Sayeg's lighting design even more spectacular. Breaking Through won't be breaking much more than an occasional eardrum.

The Pasadena Playhouse, 39 S. El Molino Ave. in Pasadena. Ends Nov. 22. 626-956-7529 or www.pasadenaplayhouse.org