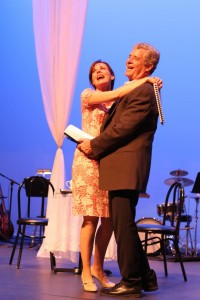 Kim Huber and Robert Yacko (all photos by Janice Young)
There are some musicals you view that were adapted from novels, plays or movies that make you wonder "why did they think this would be a good idea?" Such is the case with Do I Hear A Waltz?, the only collaboration between composer Richard Rodgers, lyricist Stephen Sondheim and playwright Arthur Laurents. Laurents' original play entitled The Time of the Cuckoo premiered on Broadway in 1952 starring Shirley Booth. It was soon adapted as a film and retitled Summertime, directed by David Lean and starring Katharine Hepburn. In 1965 Laurents rewrote his play for the Broadway musical which starred Elizabeth Allen. It was Rodgers second Broadway show after the death of his longtime collaborator Oscar Hammerstein. He had earlier written his own lyrics for his score for No Strings. Stephen Sondheim had finally had two shows produced that featured both his lyrics and music—the hit A Funny Thing Happened on the Way to the Forum and the flop Anyone Can Whistle. He really did not want to go back to just contributing lyrics like he had done for West Side Story and Gypsy. But he also wanted to honor a promise to his mentor Hammerstein and agreed to work with Rodgers. In a video clip seen in the recent Sondheim on Sondheim he regrets his involvement with Waltz, saying something along the lines that it was two years of his life he would never get back.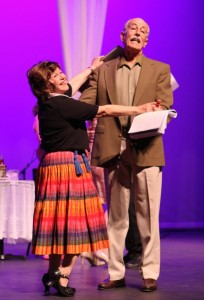 Marsha Kramer and Doug Carfrae
In 1974 this reviewer saw a production of Cuckoo at the Ahmanson Theatre which starred Jean Stapleton as the vacationing spinster Leona Samish. Of course I had also seen the Hepburn film, famous for her falling into a polluted Venice canal. I don't remember the character of Leona being as harsh and unlikable in either version as she comes across in the musical. There are other unlikable characters in the show and it is difficult to really form an attachment to them. The character development is truncated in the musical, replaced by songs, though at times tuneful and clever, that don't really add much to characterization or plot.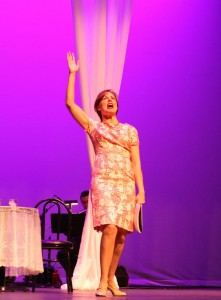 Kim Huber
Musical Theatre Guild presented Waltz in one of their staged reading concerts at Glendale's Alex Theatre on Sunday, November 15. As usual their casting was perfection and the voices glorious. Director Richard Israel's simple staging gave the piece a leisurely momentum. Jennifer Lin's musical direction gave the score a lovely sound. Kim Huber dominated the stage as Leona dominated the Venice pensione she chose for her three-week European vacation. She was brash and abrasive with her puritanical and repressed American opinions. She was also warm and charming, comic and heartfelt when an older Italian melted her icy heart with his Old World charm. Her performance really shone brightly in her singing. Robert Yacko, making his MTG debut, was a standout as Signor Di Rossi, the charismatic married Italian shopkeeper whose kindness may or may not have ulterior motives. Together they made a wonderful pairing. Great support was given by Eileen Barnett as the lusty owner of the pensione, Zachary Ford and Ashley Fox Linton as a young bickering married couple, Doug Carfrae and Marsha Kramer as an older typical pair of married American tourists. Lindsey Alley added some comic relief as the English-impaired maid Giovanna.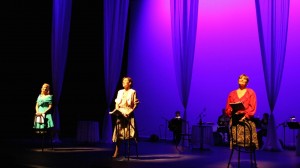 Ashley Fox Linton, Kim Huber and Eileen Barnett
Sondheim's ingenious lyrics were delightfully on display in Ford & Linton's paean to a troubled marriage, "We're Gonna Be All Right." Rodgers soaring melodies carried many of the songs, especially the buoyant title song, sung full throttle by a romance besotted Huber. Yacko did a splendid job with "Take the Moment," the Act One closer that melts Leona's prudish demeanor. The highlight was the Act Two opener, "Moon In My Window," a wonderful moment featuring a trio of superb vocal artists—Linton, Huber and Barnett. Brava Divas, Brava. Molte bene!

Next up for MTG will be A Class Act, Sunday Feb. 21 at the Alex Theatre, 216 N. Brand Blvd. in Glendale. www.musicaltheatreguild.com or 818-243-ALEX.