Playwright Tom Baum and director Asaad Kaleda have spent a lot of time writing for and directing in television, where all problems can be neatly resolved in 22 or 42 minutes. It takes 90 intermissionless minutes to reveal and solve all the dirty little secrets and problems in Baum's latest play, Front Door Open, but a lot of that is repetitious filler. What starts off as a look at agoraphobia in an elderly woman turns into a run-of-the-mill dysfunctional family melodrama, with stereotypical characters spouting stereotypical dialogue before reaching a happy ending.
Eleanor (Joanna Miles) is an elderly woman who hasn't been out of her house in nearly five years. The last time was a disaster, sending her to the ER which probably didn't help her situation. Her husband Douglas (David Selby), a still practicing surgeon, has been a very controlling husband for 50 years. When he leaves Eleanor home alone, she locks and bolts the several locks and bolts on their front door, sets the alarm and calms the dog (off stage, heard but never seen), her only companion. But on this eventful day her daughter Gretchen (Anna Nicholas) and granddaughter Thalia (Lizzy Rich) arrive and the melodrama kicks into high gear.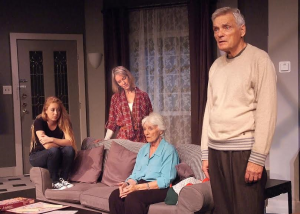 (all photos by Ed Krieger)
As a teenager, Gretchen was thrown out of the house by her father after catching her with several boys. She has been persona non grata ever since. Daddy didn't approve of her wannabe screenwriter husband and that proved prophetic since he has abandoned her. She's also lost her tenured teaching position due to an affair with a student and a morals clause in her contract. Due to the resultant lack of income, she and Thalia are homeless and have moved cross country to seek shelter with her parents. No open arms await them. Gretchen suffers the same panic attacks that have incapacitated her mother but gets through them with New Age feel good therapy. Thalia is a tattooed, foul-mouthed constant sexter who seems to be taking after her mother by getting boys to drop trou on Tinder. Eleanor has gone off her meds, replacing Xanax with brandy that she swigs straight out of the bottle hidden in her knitting bag. Even the dog, named Zenda, is a prisoner in the kitchen, never let free to run outdoors.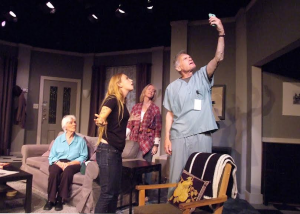 There are still more revelations to be uncovered as the quarrelsome quartet strip away long held secrets and animosity in a mere few hours. Douglas' infidelity, real (there was a STD result that Eleanor steamed open) and imaged (Eleanor's memory). Did Gretchen really have sex with all those boys or was she just trying to get Daddy's attention? There are such big gaps in Baum's logic at times a fleet of 18-wheelers could park in them. How does a woman who has not been out of the house in five years still carry money or credit cards on her person for an impromptu trek to Kroger's where she purchases a hat? Why does the dog bark when people enter the kitchen from the living room but not when they enter from the back part of the house? All problems are neatly resolved by the curtain call. Gretchen and Thalia are warmly welcomed; Dr. Douglas approves of his wife substituting brandy for Xanax. Eleanor goes out to water the dying birch trees alone. Even Zenda is set free from his imprisonment as Douglas and Eleanor prepare to take him to a dog run in a nearby park. Happy endings all around.
The cast does what they can with the heightened unreality of the situations Baum has created for them to enact. Director Kelada manages to mostly keep them from bumping into each other. The show's best asset is Tom Meleck's scenic design. Even though this World Premiere of Front Door Open is not a musical, I came out humming the set.

Greenway Court Theatre, 544 N. Fairfax Ave. in Los Angeles. Ends Dec. 13. 323-673-0544 or www.greenwaycourt.org