The Irish have always been a sturdy race, a breed apart. Their Gaelic heritage and Catholic religion separated them from neighboring Anglo-Saxon Protestant England which ruled over them for centuries but never truly subdued them. Their writers have always had a distinct voice, bleak and forlorn at times to hearty and ribald (think James Joyce and Oscar Wilde). To love an Irishman (or woman) has never been an easy task in fiction. This holds true to Irish playwrights from John Millington Synge (Playboy of the Western World) to Brian Friel (Dancing at Lughnasa) and includes Sean O'Casey (Juno and the Paycock) and Brendan Behan (The Hostage) whose characters managed to find love even amid The Troubles.

Dan Donohue and Jessica Collins (all photos by Michael Lamont)
Now you can add Irish American playwright John Patrick Shanley, a Pulitzer Prize winner for Doubt and an Academy Award winner for Moonstruck, to the list. He has written about love in the Italian American community in his native New York, but now he has finally embraced his Irish heritage with Outside Mullingar, currently playing the Geffen Playhouse in Westwood. Your enjoyment of the play will be determined by your tolerance for the stubborn Irish nature of his characters. I have a particular fondness for star-crossed lovers who have no idea they are star-crossed and muck it about senselessly before the realization finally strikes them. That is the case with Anthony(Dan Donohue) and Rosemary (Jessica Collins), neighbors on adjoining farms near Killucan in 2008.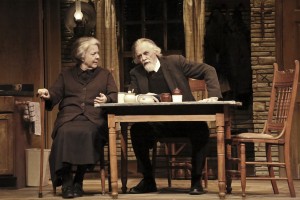 Robin Pearson Rose and Jariath Conroy
Rosemary and her mother Aoife (Robin Pearson Rose) have just buried her father and Rosemary stands to inherit their family farm soon since her mother's days are numbered. Rosemary has turned down numerous suitors over the years and in her mid-thirties has had her eggs frozen as a precaution. Anthony's father Tony (Jariath Conroy) is also on his last legs and is thinking of selling his farm to an American relative because he feels that Anthony, already 42 and heartbroken over a girl who jilted him at 16, will never marry and have an heir to inherit the family farm. Rosemary shames Tony into changing his mind and soon both parents are gone but it takes several more years for Tony and Rosemary to finally realize their true destiny is together.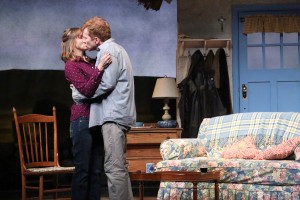 Jessica Collins and Dan Donohue
It's a charming tale with lovely, lilting writing. The reason for Anthony's hesitancy in courting Rosemary is wonderfully fey and typically whimsical for an Irishman. Randall Arney has skillfully directed and lets the characters and the words tell the story without a lot of embellishment. The quartet of actors are sublime with touching moments delivered by the two veterans—Conroy and Rose. Donohue is perfect as the geeky, seemingly out of place farmer who can't always connect with him emotions. Collins proves to be a real spitfire when her character fights for her beliefs. Anthony T. Fanning's scenic design is an added plus.

Geffen Playhouse, 10886 Le Conte Ave. in Los Angeles. Ends Dec 20. 310-208-5454 or www.geffenplayhouse.com