The Kentwood Players, located just west of the 405 freeway and a few miles north of LAX, is a community theatre in its 65th year of existence. I first covered shows there in the mid 1970's when I first starting my reviewing career and was writing for Showcase Magazine. I had not been there for decades before seeing their current production, the rarely produced musical mystery spoof, Something's Afoot. I saw a touring production of the show at the Huntington Hartford in 1975 with a cast that included Lu Leonard and Pamela Myers. I have never seen it on any theatre's schedule since then. So with a Plus One who had heard of the show but never seen it, we headed off to the wilds of Westchester.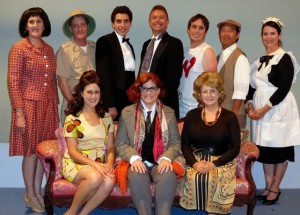 This neglected confection–with book, music and lyrics by James McDonald, David Vos and Robert Gerlach with additional music by Ed Linderman—is a comedy take-off on Agatha Christie's Ten Little Indians. There is even a song "I Owe it All" that gives credit to Ms. Christie, Arthur Conan Doyle and other mystery writers. It's 1965 and six disparate guests are invited to the secluded country estate of Lord Rancour where a staff of three await them. They soon discover their host has been shot and the island they are on is cut off from the mainland by flooding. One by one, the others are killed in gruesome and ingenious ways including exploding stairways, poisoned darts, etc. Who is the killer? Will anyone survive? Hidden motives, hidden relationships, a missing will, a grabby handyman, a snoopy spinster, an unexpected guest all add up to a fun time.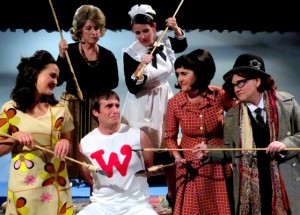 Catherine Rahm's direction could be tighter and her plucky cast could use a bit more energy and comic flair but that may come with more performances under their belt. Opening night was unsteady at times but they still generated laughs from the capacity audience. Alison Mattiza's choreography was fairly simple and by rote but "Carry On" was a fun number for the ladies who ended up in a kick line with pygmy spears instead of the usual canes.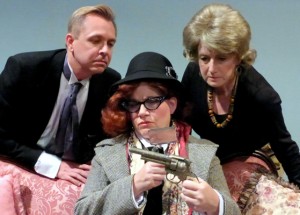 Elizabeth Bouton's Miss Tweed could use a touch more Miss Marple in her characterization—she comes off more as a brandy imbibing snoop than sleuth. Megan Duquette as Hope has a lovely soprano and she wears her 1960's fashions (costumes by Kathy Dershimer) quite well. Roy T. Okida seems to be enjoying himself as Flint, the handyman whose fingers can't resist a feminine derriere. Aaron Eberhardt makes an ardent but mysterious suitor for Hope. Unfortunately the tech was a bit off—a botched electrocution here, a misplaced flying shoe there–but hopefully the crew will soon be in sync with the cast and the result will be a merry mystery romp through Agatha Christie Land.

Kentwood Players, 8301 Hindry Ave. in Los Angeles. Ends Dec. 19. 310-645-5156 or www.kentwoodplayers.org