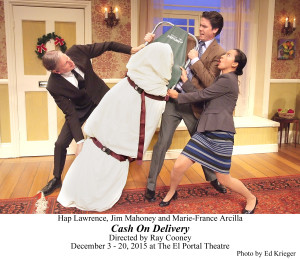 British playwright Ray Cooney has been acknowledged as "The Master of Farce" for decades and he seems to have passed his farcical writing genes on to his son Michael Cooney, a well-known screenwriter who has also written a few works for the stage. Michael's Cash on Delivery is currently being presented on the main stage of North Hollywood's El Portal Theatre and the audience at the opening performance really enjoyed the hysterical comedy antics of a group of Londoners. Ray Cooney's expert direction kept the madcap energy of the farce going full speed after the setup in the opening scene.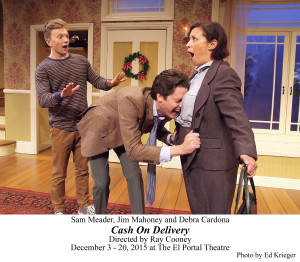 It seems that Eric (Jim Mahoney displaying great physical comedy a la Dick Van Dyke) has been unemployed for the past two years but embarrassed to tell anyone. Instead he fell into a windfall when his upstairs tenant emigrated to Canada but his welfare checks kept arriving. Eric has created other fictitious identities and ailments and the money just kept flowing in. On the morning he has finally decided to end a few of his schemes, an inspector from the welfare department drops in for a review and a signature. The comic mayhem ensues when Eric is forced to corral his current tenant Norman (Sam Meader) and his Uncle George (Ray Cooney) into taking on various false identities to confound the inspector. Complications arise when a bereavement counselor, a mortician, Eric's in-the-dark-wife, a marriage counselor, a welfare supervisor and Norman's fiancée all arrive for various reasons. Eric builds lie upon lie until his whole house of welfare schemes collapses on him. Ebay, transvestitism, corpses in window boxes, lightning rods, cranky washing machines and runaway ambulance trolleys are all mixed into the over-boiling plot pot. It gets a bit complicated but the cast gamely pushes through to the happy ending, providing plenty of laughs along the way.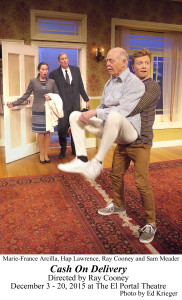 Mahoney and Meader are the standouts in the cast handling the bulk of the comic actions. Cooney gets manhandled and door banged quite a bit and proves to be a plucky codger. Michael Sweeney Hammond has some fine moments as the befuddled marriage counselor who thought he had seen it all until he visited this household. Debra Cardona also elicits plenty of laughs as the stuffy supervisor who bears the brunt of Eric's frustrations. Brian Wallace got applause when he managed to recap the insane goings on in a few succinct sentences. Bruce Goodrich provided the well-appointed and appropriate (there were the requisite five doors necessary for a farce) set design. Besides providing plenty of laughs, this show may inspire some audience members to consider applying for British citizenship to gain some of those awesome welfare benefits.

El Portal Theatre, 5269 Lankershim Blvd. in North Hollywood. Ends Dec. 20. 818-508-4200 or www.elportaltheatre.com