It is very easy to get into the Holiday Spirit when you attend the annual Kritzerland at Sterling's Upstairs at the Federal show. Classic holiday tunes sung by classy singers along with great food and a free gift CD. This year the show was on December 9 and the CD was the Bruce Kimmel penned and Sami Staitman starring one-girl show Welcome to My World. Ms. Staitman didn't perform but she was called on stage to receive the very rarely seen Kritzie Award. Long time Kritzerland show co-producer Adryan Russ (all 63 shows produced so far) also received a Kritzie for her five-year tour of duty as she sets off on other projects.
As is tradition with the Kritzerland holiday show, the evening began with an upbeat, peppy rendition of "Be A Santa" from Subways are for Sleeping," this time delivered by Kerry O'Malley & Robert Yacko. Ms. O'Malley returned later to enchant with the Mel Torme classic "The Christmas Song" and ended the evening with a put-together of "Happy Holidays" and the eternal "White Christmas." Lovely job on each of them. Mr. Yacko delivered the enchanting "A Place Called Home" from the Alan Menken/Lynn Ahrens' version of A Christmas Carol and channeled his inner Bing Crosby for Irving Berlin's" Count Your Blessings"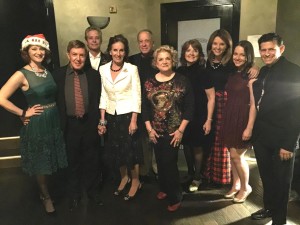 The cast of Season's Greetings along with producers Bruce Kimmel and Adryan Russ and pianist James Lent
Kimberly Hessler's lovely soprano soared on "Wouldn't It Be Loverly" from My Fair Lady, a role she played recently. She also got the audience in the holiday spirit with put-togethers of the cheery "It's Beginning to Look a Lot Like Christmas" and "Let It Snow" and the plaintive "The Christmas Waltz" and "I'll Be Home for Christmas." Host Bruce Kimmel did a charming job on his (and this writer's) favorite holiday song, "Have Yourself a Merry Little Christmas," first introduced by the legendary Judy Garland in the film Meet Me in St. Louis. James Lent provided the excellent musical accompaniment throughout.
The evening's Guest Star was Andrea Marcovicci who performed "The Gift," a lovely tune written by co-producer Adryan Russ and Brad Ellis. Later Ms. Marcovicci teamed up with her pianist/accompanist extraordinaire of the past 18 years, Shelly Markham, for the playful "Baby, It's Cold Outside." Comedy was not is short supply with Adrienne Visnic and Sharon McNight on the bill. Ms. Visnic received plenty of laughs with Kimmel's Jewish themed "This Christmas" and with her show-stopping number "I Don't Say Anything" from Inside/Out, a show she appeared in last Spring. She also got to display her winsome side with "What are You Doing New Year's Eve?" Ms. McNight , a veteran diva of the cabaret stage with tremendous comic chops, showed a tender side with Janis Ian's "I'm Still Standing Here." But comedy reigned whe she also performed two specialty holiday tunes—"Holiday Dinner," a foodies nightmare sung to the tune of "Rudolph The Red-Nosed Reindeer" and "Santa Lost a Ho," an audience participation number. No Ho's were lost in this festive evening. Happy Holidays to all and to all a Good Night was had.