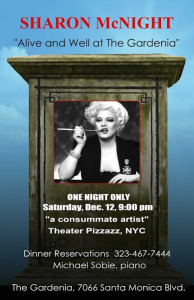 If you have never witnessed the unique force of nature that is Sharon McNight, you really should. She is a one of a kind performer, carrying on the tradition of Red Hot Mamas from such legends as Mae West and Sophie Tucker. After all, she has recorded two CDs of "Songs to Offend Most Everyone". She brought her newest acclaimed club act to West Hollywood's The Gardenia on Saturday, December 12, and it was a much needed tonic to all the syrupy holiday treacle being served up nearly everywhere else.
From her rousing opening number, Shel Silverstein's "Queen of the Silver Dollar"–with lyrics and a performance that evoked memories of Marlene Dietrich as Frenchy in Destry Rides Again–to her sorta-kinda ASL infused audience sing-a-long encore to Nan O'Byrne's "Sweet & Shiny Eyes," McNight had her audience in the palm of her hand, often squirming under her spell. She would have you laughing uproariously one moment (Amanda McBroom and Michelle Brourman's "One of Those Days," a number cut from their musical Heartbeats) and holding back the tears the next (Janis Ian's "Still Standing Here"). She is a consummate artist who has a great knack for picking material that fits perfectly in her wheelhouse. Most of the songs she performed were written by composer friends and she gave their material a top quality showcase.
When starting out McNight was told one doesn't sing country western in a cabaret act so she defiantly treated us to a Hank Williams medley. She paid tribute to her longtime friend and cabaret legend Julie Wilson by performing Bill & Patti Jacob's "I Only Wanna Laugh" from the musical Jimmy. She added an international flavor to the evening with Alan Chapman's hilarious Spanish ditty "Como Te Gusta Mi Pinga?" and combined a traditional German tune "Du Liegst Mir I'm Herzen" with Janis Ian's haunting ballad "Jessie." And then there was "Haiku." No matter what language McNight chooses to sing, she sings with cojones to spare. Don't miss her next appearance. Keep tabs on her at sharonmcnight.com.