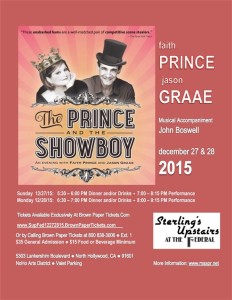 Sometimes later is better. That was the case with The Prince and the Showboy, an after Christmas, after Boxing Day present unwrapped by the delightful Faith Prince and the ham-on-wry Jason Graae on December 27. The festive unwrapping took place at Sterling's Upstairs at The Federal in North Hollywood, the first of a two-night return engagement (the duo will also be appearing in Palm Springs this week). The affection and admiration the two performers have for each other was lovingly displayed and their between songs, and sometimes in the midst of songs, patter was hilarious as one attempted to outdo the other, but all in good sportsmanlike camaraderie. This duo of Broadway babies have a long history together starting with college in Cincinnati and continuing in off-Broadway shows and now an "act." Their set list started off with "opening mishmash duet" and it was definitely that. Graae opened with "Someday My Prince Will Come" from Walt Disney's Snow White only to have Prince join him onstage crooning "One (show) Boy" from Bye Bye Birdie. Their lyrics subverted the songs to their own wicked pleasures and off we went.
Altering lyrics to familiar songs was a keynote of the evening with Graae twisting Larry Hart's "My Funny Valentine" to his nefarious and laugh-inducing purposes. Prince didn't need to change the lyrics to Stephen Sondheim's "The Boy From" to elicit laughs but her Spanish enunciation sure did garner them. The duo did a few heartfelt medleys, first from William Finn's Falsettos and then with a bevy of Jerry Herman songs. Prince originated the role of Trina in the off-Broadway Falsettoland and delivered a devastating turn with "Holding to the Ground." Graae replaced Chip Zien in the Broadway run of Falsettos but sang the poignant "What More Can I Say?" which Michael Rupert originally introduced. Both performers have worked in shows by composer Herman and quickly went through his songbook from Milk and Honey, The Grand Tour and Dear World to Hello, Dolly!, Mame and La Cage Aux Folles. Prince's "If He Walked into My Life" and Graae's "I Am What I Am" were clearly the highlights of the medley.
Both stars had plenty of opportunities to display their versatility during the 90-minute set, with comedy songs and patter alternating with sincere reminisces of their lives and careers and beautifully wrought ballads. Prince delighted with "Somewhere That's Green" and "Suddenly Seymour" from Little Shop of Horrors and then turned wistful and melancholy with "Sweet Kentucky Ham." Graae accompanied her rendition of Charlie Chaplin's "Smile" on oboe and then brought down the house with his "The Stalker Song." John Boswell gave great accompaniment throughout on the piano. It was a lovely way to spend a post-holiday as well as a pre-holiday evening.