Playwright Stephen Adly Guirgis won a Pulitzer Prize in 2015 for Between Riverside and Crazy and is probably best known for writing The Motherf*cker With the Hat. For its latest production, 2Cents Theatre is presenting one of his earlier plays Den of Thieves at the Hudson Guild Theatre. The 90-minute work features a cast of determined losers and inept wise guys and is quite funny at times. It could use tighter direction and pacing and that may come with more playing time.
Maggie (Alison Quinn) is two weeks into a 12-step program to stop her obsessive kleptomania. She has just returned home from the market with a large purse full of purloined food and called her sponsor Paul (Frank Gallegos), who has been theft free for 682 days. We discover Paul is in many programs for his varied obsessions—from smoking to overeating and more. Even after Paul discovers Maggie has stolen his wallet and used his $800 to pay her rent, he accepts her apology and convinces her to return the stolen food items. But they are interrupted by Flaco (Kevin Herrmann), her ex-boyfriend, a wanna-be player who puts on a tough guy Latino front when he's actually just a befuddled white guy. Also arriving is Flaco's latest squeeze, Boochie (Paulina Gamiz), an exotic dancer with a flair for fellatio and exposed flesh. Flaco talks them all into heisting $750,000 from a safe at a disco that has no mob connections. It's a fool proof plan except the fools get caught by the mobsters whose money it really is.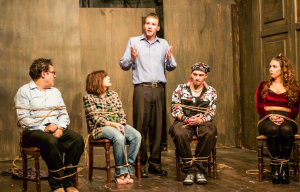 Frank Gallegos, Alison Quinn, Chris Lanehart, Kevin Herrmann and Paulina Gamiz (Daniel J. Silwa Photography)
Act Two finds the feckless foursome bound and hooded in chairs awaiting execution. Trigger happy and gambling addicted Sal (Eric Geller) is all for shooting them and getting on with dinner. Louie "The Little Tuna" Pescatore (Chris Lanehart) is gun shy and takes a fancy to Maggie and wants to date her. Sal insists on a body and Louis gives the thieves until dawn to pick one of their own to sacrifice. Their ensuing monologues on what they mean to society are the comic highpoint of the show. The play reaches its nadir when Al "The Big Tuna" (Cris D'Annunzio) arrives home and finds the thieves still breathing and talking. The character and the actor really put the brakes on the hilarity. The play sputters for another 15 minutes or so until it finally ends.
Director Eric Augusztiny's staging feels cramped and claustrophobic even when there are only two actors on stage. With seven bodies he is at a loss with clumsy blocking. The cast is competent with Lanehart and Gamiz rising to the top of the heap. They take their comic characters and polish them to a bright shine.

Hudson Guild Theatre, 6539 Santa Monica Blvd. in Hollywood. Ends Feb. 7. www.plays411.com/denofthieves or 323-960-5770