The World Premiere of Michael Antin's musical Pillars of New York is currently being presented by Write Act Repertory at The Brickhouse Theatre in North Hollywood. The story begins at a book reading/signing in 2009. Psychologist/author Jake (Wayne Moore) has a new book about the effects of 9/11 on some of his patients. The action then spools backward to September 10, 2001 and we discover Jake has been compiling material on his patients (without their knowledge or approval) for a book expounding his theories. His assistant Wendy (Elizabeth Sekora) thinks he is wrong in both his methods and his outlook. We then see several of his patients in and out of the therapist's office. Rachel (Suzan Solomon) is a Jewish mother feeling guilty for living with her grown son Chaim/Alex (Julian Goza) and even guiltier for thinking her upbringing made him gay. Marty (Michael Cortez) is having a hot affair with Wendy while belittling his wife Carrie (Molly Gilman) for letting herself go and dampening the ardor of their marriage. Carrie in turn is having an affair with Davis (Bobby McGlynn), a struggling writer with a successful wife Bianca (Marza Warsinske), who just found out, defying medical science, that she is pregnant. Selfish Davis is not happy about the baby, even if it is a miracle baby; this was supposed to be his time. Harley (Eloise Coopersmith) and Victor (Gary Mortimer) are an Oklahoma couple who have found living in New York City with their three children straining their finances. Alex, Marty, Harley and Bianca all work in the Twin Towers and meet their fate on 9/11.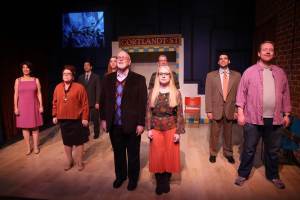 (photo by Afshin Katanchi)
Faced with the loss of his book notes, Jake is forced to reconsider his approach to his book. He ends up interviewing survivors and finding out how they are coping with their losses. Unfortunately most of Antin's 90-plus intermission-less minutes deal with the trite stories of his characters pre 9/11. Even the character Wendy voices the fact that their problems are trivial. I'm sure there are many engrossing tales that can be written about dealing with the losses caused by the 9/11 tragedy, but this is not one of them. There are far too many scenes plus 16 musical numbers and although Jim Blanchette's direction keeps the show moving along, he can't do much to make the proceedings moving. The cast fares as best as they can with their pedestrian characters. This is one of those musicals where you wonder why the creators wanted to write a musical instead of just writing a play. The songs don't really add much to the piece. Antin's lyrics are as banal and uninvolving as his playwriting. His music however is melodious and well played by musical director Rob Bowers. For the most part the individual voices are adequate if unexciting. As a group they sound much better, especially on the score's standout title number. Gilman possesses the best voice in the cast but her songs let her down. Pillars of New York is a noble idea but a failed attempt.

The Brickhouse Theatre, 10950 Peach Grove St. in North Hollywood. Ends Feb. 21. www.brownpapertickets.com