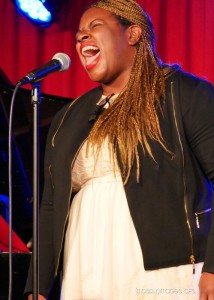 Chanel Edwards-Frederick (all photos by Amy Francis Schott)
I attended my first show at the E Spot Lounge in Vitello's Restaurant's in Studio City on January 4 and also saw my first (Mostly) Musicals show. It was their 15th in the series and producer Amy Francis Schott picked a happy theme to start off 2016 and most of the performers delivered fun upbeat numbers. It was a large cast, 17 performers in all, and the songs and the singers covered a wide range of material and styles.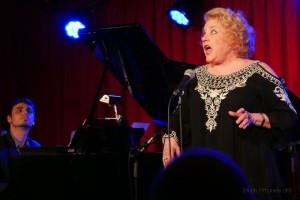 Gregory Nabours and Sharon McNight
Faring best were the performers who have racked up a lot of experience performing on local Southern California musical stages. Will Collyer's Happines Medley featured the touching "Happiness" from the Broadway musical You're a Good Man, Charlie Brown. Tony nominee Sharon McNight livened up the evening and hit a big nostalgic chord with her audience performing a Disney Medley that ranged from the "Mickey Mouse Club Theme" to songs sung by princesses, dwarves, fairies (the wand carrying variety),flying nannies and coonskin cap wearing frontiersmen.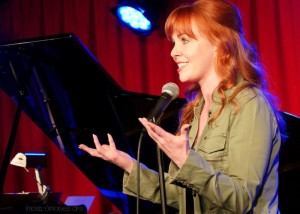 Kelley Dorney
Rhett George performed "Let It Sing" from Violet, a musical he recently starred in for San Diego Rep while Kelley Dorney, currently appearing in Nunsense, did a fine job with "So Much Better" from Legally Blonde. Chanel Edwards-Frederick brought down the house with her rendition of "I Know Where I've Been" from Hairspray while Emily Clark led an audience sing-a-long, drink-a-long to "Doin' What Comes Naturally" from Annie Get Your Gun.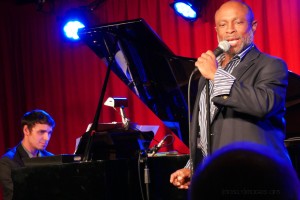 Gregory Nabours and Jeffrey Polk
Jeffrey Polk did an outstanding job with the Frank Sinatra standard "The Best is Yet to Come" while Alex Mohajer channeled his inner Jennifers (both Holliday and Hudson) with his take on "I Am Changing" from Dreamgirls. Katherine Washington introduced a song from the new musical 35 MM she will be appearing in beginning in February. Devyn Rush got some laughs when she flubbed the lyrics to the Fred Astaire classic "Pick Yourself Up" and sang "Don't lose your confidence if you strip" instead of slip. Zachariah Griffin did a nice job with Charlie Chaplin's "Smile," accompanying himself on guitar. Mark Jacobson, Jeff Scot Carey, Randi Cee, David Crane and Ben Boquist also performed while Gregory Nabours gave great accompaniment throughout on the grand piano. The cast gathered for the finale, "The Best of Times," and I still can't get that Jerry Herman tune out of my head. The Italian cuisine at Vitello's ranges from appetizers to desserts and is yummy delicious. Check out their menu as well as upcoming shows on their website vitellosrestaurant.com.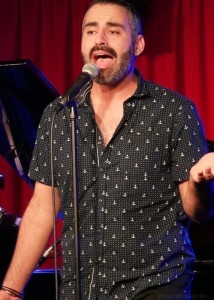 Alex Mohajer