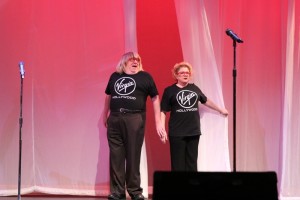 Bruce Vilanch and Sharon McNight opening the 30th Anniversary Robby Awards
(all photos by Karen Staitman Photography)
The 30th Anniversary Robby Awards, presented by long time Southern California reviewer Rob Stevens, are now history. The show was held on Monday, February 8, 2016 at the El Portal Theatre in North Hollywood and honored Excellence in Southern California Theatre for calendar year 2015. Co-hosts Sharon McNight and Bruce Vilanch did a stellar job of entertaining the audience and keeping the show moving along at a brisk clip. There were 14 musical numbers (by George Ball and Amanda McBroom, Carole Cook, Misty Cotton and Emily Lopez, Stephanie Fredricks and Robert Yacko, Zachary Ford, Jason Graae, Alxander Jon, Sharon McNight, Valerie Perri, Linda Purl, Debbie Prutsman, Sami Staitman, Wyn Wilson and Jo Anne Worley all of whom also presented awards) and 29 awards presented (Martin Benson, David Engel, Dane Oliver and Tom Troupe also were presenters) during the 2 ½ hour show.
The big winner was 3D Theatricals' Side Show which won a total of five awards, including Best Musical in a tie with the Ahmanson Theatre's The Bridges of Madison County which won a total of four awards. The Antaeus Theatre Company's Picnic also won four awards including Best Drama. Best Comedy was awarded to South Coast Repertory's One Man, Two Guvnors.
A complete list of winners follows:
Virginia Capers Award for Best Musical Production (tie)
THE BRIDGES OF MADISON COUNTY, Ahmanson Theatre
SIDE SHOW, 3D Theatricals
Best Director of a Musical
T.J. Dawson, SIDE SHOW
Best Actor in a Musical (tie)
Josh Adamson, BIG FISH, Moonlight Stage Productions
Andrew Samonsky, THE BRIDGES OF MADISON COUNTY
Michelle Nicastro Award for Best Actress in a Musical (tie)
Misty Cotton, CARRIE THE MUSICAL,
La Mirada Theatre for the Performing Arts
Elizabeth Stanley, THE BRIDGES OF MADISON COUNTY
Best Supporting Actor in a Musical
Jake Kitchin, BILLY ELLIOT THE MUSICAL, McCoy Rigby Entertainment
Best Supporting Actress in a Musical
Carol Kline, THE GOLDEN APPLE, Musical Theatre Guild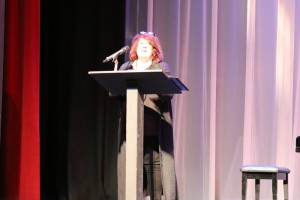 Carol Kline
Best Musical Direction
Alan Everman, SIDE SHOW
Dom Salinaro Award for Best Choreography
Lee Martino, CARRIE THE MUSICAL
Billy Barnes Award for Best Music & Lyrics
Jason Robert Brown, THE BRIDGES OF MADISON COUNTY
Nan Martin Award for Best Drama Production
PICNIC, The Antaeus Theatre Company
Martin Benson Award for Best Director of a Drama
Cameron Watson, PICNIC
Best Actor in a Drama
Jason Dechert, PICNIC
Best Actress in a Drama (tie)
Taylor Gilbert, THE OTHER PLACE, The Road Theatre Company
Deborah Strang, ALL MY SONS, A Noise Within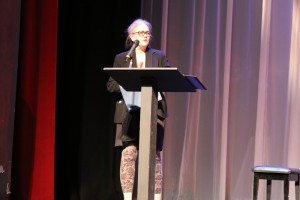 Deborah Strang
Best Supporting Actor in a Drama
Alan Blumenfeld, R&J A GENDER-REVERSED ROMEO AND JULIET, Mine is Yours Theatre Company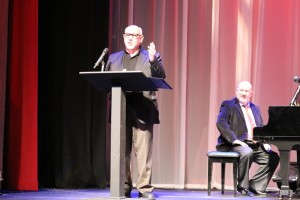 Alan Blumenfeld accepting his award with Robby Musical Director Gerald Sternbach at the piano
Best Supporting Actress in a Drama
Shannon Holt, PICNIC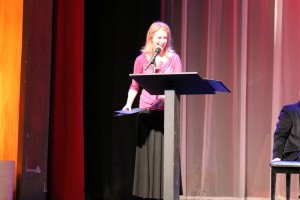 Shannon Holt
Michael Devereaux Award for Best Playwriting
Eric Coble, MY BARKING DOG, The Theatre @ Boston Court
Carole Cook Award for Best Comedy Production
ONE MAN, TWO GUVNORS, South Coast Repertory
Ron Link Award for Best Director of a Comedy
Art Manke, PETER AND THE STARCATCHER, South Coast Repertory

Art Manke
Best Actor in a Comedy
Dan Donohue, ONE MAN, TWO GUVNORS
Lu Leonard Award for Best Actress in a Comedy
Kate Maher, THE HOUSE OF YES, Zephyr Theatre
Albert Lord Award for Best Supporting Actor in a Comedy
Tony Abatemarco, PETER AND THE STARCATCHER
Dee Croxton Award for Best Supporting Actress in a Comedy
Tamara Zook, SONS OF THE PROPHET, The Blank Theatre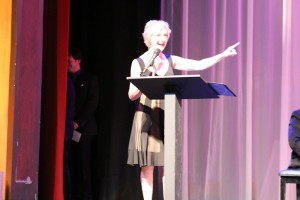 Tamara Zook
Best Ensemble Performance
Sandy Bainum, Jill Marie Burke, Cynthia Ferrer, Stephanie Fredricks, Dana Meller, Adrienne Visnic
INSIDE OUT, Kritzerland Entertainment and Playworks Music
John Raitt Award for Best Cabaret Performance
Faith Prince and Jason Graae, THE PRINCE AND THE SHOWBOY, Sterling's Upstairs at The Federal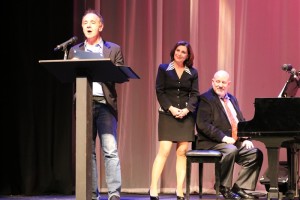 Jason Graae accepting for Best Cabaret Performance while Valerie Perri & Gerald Sternbah look on
Best Scenic Design
David Goldstein, AROUND THE WORLD IN 80 DAYS, Actors Co-Op
Best Lighting Design
Jean-Yves Tessier, SIDE SHOW
Best Costume Design
Kate Bergh, SIDE SHOW
Best Sound Design
Gregory Clarke, TRISTAN & YSEULT, South Coast Repertory
Best Projection Design
John Infante, BIG FISH