There is an old theatre proverb: "Dying is easy, comedy is hard." That was the case at the February 7 matinee of Cabrillo Music Theatre's A Funny Thing Happened on the Way to the Forum. The audience was very unresponsive to most of the farcical shenanigans enacted by a game troupe of performers. I'm not sure if the audience was wishing they were at a Super Bowl Party or wishing they had a vote in the upcoming New Hampshire primary or just wasn't in the mood for musical comedy farce. The more the jokes and shtick fell flat, the more the actors seemed to push the next one. It made for a long and unsuccessful outing for all involved.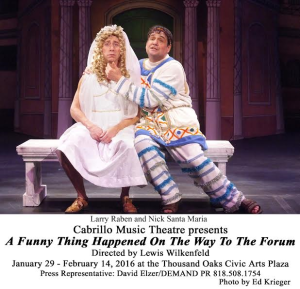 Burt Shevlove and Larry Gelbart's book took its hint from the Roman playwright Plautus. There were the requisite slamming doors, mistaken identities, men in drag, mad chases etc. Set in Rome 200 B.C. there were also slaves, courtesans and eunuchs. What's not to like? Stephen Sondheim provided the clever lyrics for the songs which dealt with the treatment of nubile maids, the actions of dirty old men and funeral pyres. Again, what's not to like?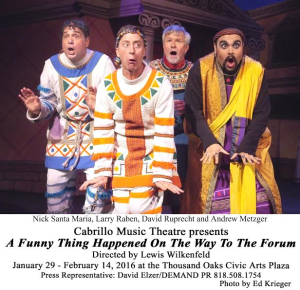 The pacing of the opening number in director Lewis Wilkenfeld's staging was slow and seemed to set the tone for the rest of the performance. Too much time was spent with leading player Pseudolus (a game but trying too hard Nick Santa Maria) working the audience. Most of them weren't having any of it. Larry Raben provided some highlights as slave-in-chief Hysterium, especially during his second act drag turn. David Ruprecht as a hopefully straying husband and Elise Dewsberry as his gorgon of a wife added supple support. Matt Merchant made an imposing figure as General Miles Gloriosus. Claire Adams and Tyler Miclean blandly played their bland young love interests.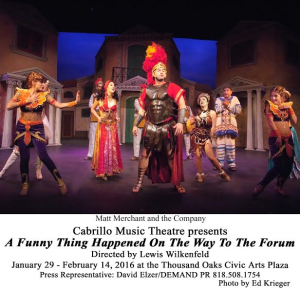 Choreographer John Charron staged some fun and exuberant dance moves for his statuesque Courtesans (Beth Alison, Julie Alice Auxier, Kai Chubb, Janelle Loren, Amy Lenhardt and Anne Montavon) and they made "The House of Marcus Lycus" the standout number in the show. Lloyd Cooper and his eight- member orchestra did a fine job with Sondheim's peppy score. It's incongruous that a show with forum in the title was staged in a theatre with forum in its name but not much funny happened during this performance.

The Ray & Janet Scherr Forum, Thousand Oaks Civic Arts Plaza. 2100 Thousand Oaks Blvd. in Thousand Oaks. 805-449-2787 or www.cabrillomusictheatre.com