Richard Maltby, Jr. and David Shire have composed music for many musicals over the years, but only two of them—Baby and Big—achieved Broadway runs. They have had more success with two off-Broadway revues Starting Here, Starting Now and Closer Than Ever featuring "trunk" songs—written for unproduced shows or cut from shows. The two men also have had successful separate careers—Maltby as Broadway lyricist and director and Shire as a composer of film music. International City Theatre in Long Beach opened their 2016 season with Closer Than Ever, described by the composers as a "bookless book musical." They were being generous with their description. The revue features self-contained songs which deal with such diverse topics as security, aging, mid-life crisis, second marriages, working couples, and unrequited love. At ICT director Todd Nielsen and scenic designer Stephanie Kerley Schwartz have attempted to make the show seem to be about the opportunity for the four performers to open new doors, explore new environments. But there really is no cohesive element and the door on the rolling platform soon becomes annoying rather than entertaining.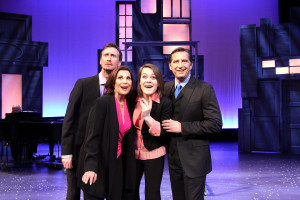 Adam von Almen, Valerie Perri, Katheryne Penny and Kevin Bailey (Photo by Tracey Roman)
Shire's music is energetically brought to life by musical director/pianist Gerald Sternbach with an assist from Brad Babinski on bass. The talented quartet of performers—Kevin Bailey, Katheryne Penny, Valerie Perri and Adam von Almen do a very fine job of selling the songs, but the songs aren't really worth their effort most of the time. Penny gets the best songs and has a chance to showcase her versatility with the angry "You Wanna Be My Friend," the raunchy "Miss Bird," and the delightful "Back on Base." Perri has fun with the comic sex in the animal kingdom ditty "The Bear, the Tiger, the Hamster and the Mole," She also forcefully delivers the evening's best song, "Patterns," which was cut from Baby. Bailey and von Almen do well with their songs but their material is weaker. They fare best paired on "Fathers of Fathers" and joined in their vocals by Sternbach. Nielsen's direction, aided by Stacy McKenney's lighting design and Kim DeShazo's costumes, offers more variety than the songs themselves do. This is basically a show for those musical theatre fans of Mr. Maltby and Mr. Shire.

International City Theatre, 300 E. Ocean Blvd. in Long Beach. Ends March 8. 562-436-4610 or www.internationalcitytheatre.org.