The Chance Theater in Anaheim is currently presenting the Los Angeles/Orange County Premiere of the 2012 off-Broadway musical Dogfight. The title may be a bit misleading as the show is not about singing WW I flying aces. Peter Duchan based his book on director Nancy Savoca's 1991 film of the same name which was written by Bob Comfort and starred River Phoenix and Lili Taylor. Benji Pasek & Justin Paul provided the music and lyrics for this tale of a trio of horny marines in 1963 on their last night in San Francisco before shipping out to Viet Nam as military advisers in the growing civil war there. They have a tradition of betting who can bring the ugliest girl as his date to the dance, hence the term dogfight.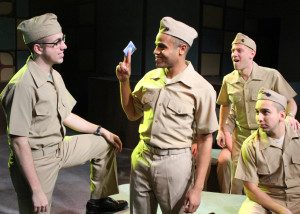 Marines get ready for a rowdy night in San Francisco (all photos by Doug Catiller, True Image Studio)
Birdlace (Andrew Puente), Boland (James McHale) and Bernstein (Jonathan Rosario), known collectively as the Three B's, have been friends since they found themselves next to each other in line at basic training. Eddie invites plain waitress and wanna be folk singer/composer Rose (Ashley Arlene Nelson) to be his date to the party and she hesitantly accepts. As they get to know each other better, Eddie tries to talk Rose out of attending the party but she insists since she is seldom asked out. They don't know that Boland has rigged the contest by hiring hooker Marcy (Kim Dalton) who has a surefire look to win. When Rose discovers the reason Eddie invited her, she angrily lashes out at him and his fellow marines. Later Eddie tries to make amends and he and Rose end up on a "first date" after all.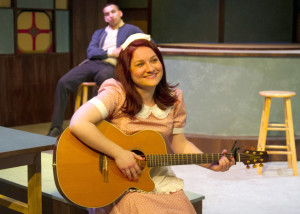 Andrew Puente and Ashley Arlene Nelson
It's a charming little story and Duchan has created a varied and interesting mix of characters. Pasek & Paul have further fleshed out the characters and plot with their songs which really are integral to the piece. The Chance has pulled out all the stops with their top drawer production. Christopher Scott Murillo's modular scenic design easily adapts to the many different locales, all beautifully lit by KC Wilkerson's painterly lighting. Ryan Brodkin's sound design is so good it's like another character, richly embellishing and underscoring the action. Christina Marie Perez's costumes are period perfect. Musical director Taylor Stephenson, on keyboards, leads the four-piece band and they sound like a much larger group.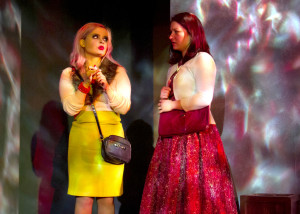 Kim Dalton and Ashley Arlene Nelson
Director Matthew McCray has done a stellar job guiding his young cast through this show. He elicits heartfelt performances as he keeps the audience keyed into the quiet scenes as well as the more raucous ones. The women prove to be stronger vocally than their male counterparts with Nelson turning in a heartbreaking performance as Rose. Dalton commands the stage as Marcy and her rendition of the title song is the show's highpoint. The men fare better in their boisterous group numbers than in their solo moments. Dogfight is a welcome addition to the local musical theatre scene and should be seen by anyone who loves good theatre and relatively unknown shows.

Chance Theater, 5522 La Palma Ave. in Anaheim. Ends March 6. 714-777-3033 or www.chancetheatre.com.