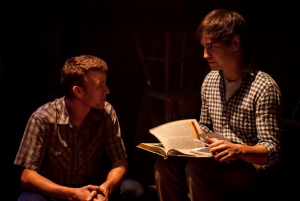 Randall Ray Clute and Matthew Boehm (all photos by Matthew Brian Denman)
Celebration Theatre is currently presenting playwright Eric Rosen's adaptation of Jim Grimsley's novel Dream Boy. The action is set in rural North Carolina in the early 1970s. Nathan (a winsome Matthew Boehm) is the new kid in town and at school where it's soon discovered he was smart enough to skip a grade and now is mixed in with boys a year older. Roy (an energetic and ingratiating Randall Ray Clute) is a neighbor boy who takes Nathan under his wing. The shy Nathan easily gets a crush on the popular Roy and Roy takes advantage of that to get help with schoolwork as well as his sexual urges. Roy keeps protesting he doesn't need to do these things with Nathan; he has a girlfriend in a nearby town. They do enjoy each other's company and find plenty of reasons to spend time together although Roy keeps cautioning discretion in public. Roy's friend Burke (Billy Evans) is a Neanderthal bigot constantly threatening harm to the younger and smaller Nathan but holds off because Roy is the group's official leader. Nathan is also threatened at home by his hard drinking bible thumping Father (Jim Hanna) who verbally, physically and probably sexually abuses his son while his brow beaten wife (Elizabeth Dement) stands helplessly on the sidelines. An end of summer camping trip, complete with ghost stories around a campfire, leads to a trek to a deserted, decaying and supposedly haunted former plantation house. The story takes a dark Southern Gothic twist, almost Carson McCullers in nature, and ends in senseless tragedy as well as joyous renewal.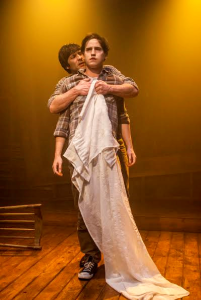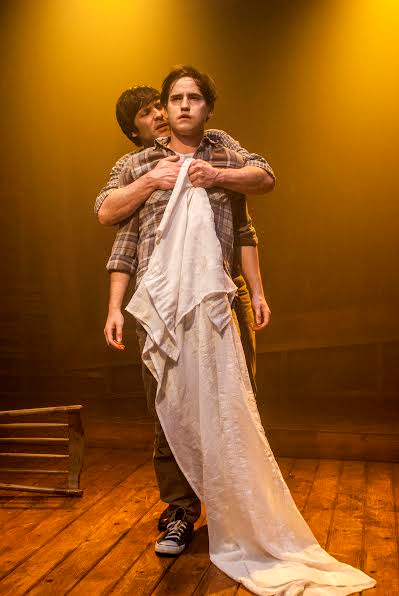 Christopher Maikish and Matthew Boehm)
The tale is told by a Narrator (a charismatic Christopher Maikish) but exactly who is he and why is he telling this particular story. At first he seems akin to Tom from Tennessee Williams' classic The Glass Menagerie. At times he seems to be one of the young boys telling the story, but which one? How did one know all the details of the other's life when he wasn't in that scene? Or is The Narrator just a playwright's device to give the play the same dreamy Southern Gothic atmosphere of the novel? Whatever the case may be, Maikish deftly conveys that dreamlike storytelling nature in his soulful characterization.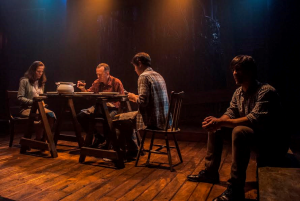 Elizabeth Dement, Jim Hanna, Matthew Boehm and Christopher Maikish
Michael Matthews' assured direction creates the perfect moods at every point. From the blush of first love through parental and peer pressures edging into the spooky, haunted territory of ghost stories and sudden tragedy. The mood is enhanced by Stephen Gifford's askew scenic design, Tim Swiss' evocative lighting and Rebecca Kessin's sound design. Matthews elicits strong performances from his two young leading men. Dream Boy creates a lovely dream landscape of a more innocent and yet threatening past. Be prepared to have your heart shaken, stirred and perhaps broken by these dream boys.

Celebration Theatre, 6760 Lexington Ave. in Los Angeles. Ends April 2. 323-957-1884 or www.celebrationtheatre.com.