These days it seems to take a village to produce a musical. There are over two dozen producers listed on the credit page for A Gentleman's Guide To Love & Murder whose National Tour just landed at the Ahmanson Theatre for a few weeks. I'm not sure I've ever seen that many producers associated with one show before. I guess the days of solo producers such as David Merrick and maybe even Cameron Mackintosh are long past. I must admit in this latest case it has made a big difference in the show. I saw the pre-Broadway tryout at San Diego's Old Globe Theatre a few years ago and was not impressed. I was surprised that the show went to Broadway, more surprised when it didn't close quickly and really shocked when it won the Tony Award for Best Musical. Even though the amazing Jefferson Mays is not in the touring cast, the show is so much better now than it was originally. Evidently much money was spent upgrading the show from its original outing at The Hartford Stage and The Old Globe to its Broadway debut. Aaron Rhyne's detailed projection design is one major improvement and is nearly a show unto itself. Alexander Dodge's scenic design looks and feels a lot less cramped than it did at The Old Globe. Linda Cho's costumes are still sumptuous and Philip S. Rosenberg's lighting is luscious.
If you ever saw the 1949 British comedy Kind Hearts and Coronets, which starred Alec Guinness as eight varied members of a titled British family being bumped off one after another as a disinherited relative schemes his way to a title and a castle, you'll recognize the plot. Just add 20 songs (by Robert L. Freedman and Steven Lutvak), bright colors and a tongue-in-cheek book by Freedman and you get A Gentleman's Guide.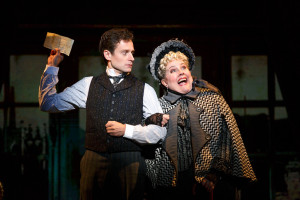 Kevin Massey and Mary VanArsdel (photos by Joan Marcus)
Tresnjak's direction keeps the madcap merriment bubbling along pleasantly. The cast is appealing and able farceurs with strong singing voices. The show is still a bit problematic in that seven of the deaths take place in Act One leaving Act Two with a lot of extra padding and an extended silly slapstick dinner scene that causes the mind to wander back over the first act's more joyous scenes.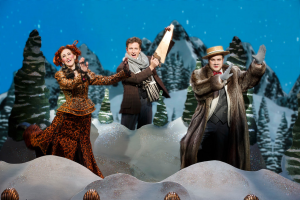 Lesley McKinnell, Kevin Massey and John Rapson
Monty Navarro (Kevin Massey) has just buried his beloved mother when he receives a visit from her old friend Miss Shingle (Mary VanArsdel) who informs Monty of his true lineage. His mother was a D'Ysquith but when she married for love she was banished from her family and their fortune. Miss Shingle thinks it's time for poor Monty to get his share and, prodded by his mistress Sibella's (Kristen Beth Williams) monetary outlook on life, he sets out on a lethal quest. One by one he meets his estranged relatives (all played by John Rapson aided by his quick change artist dressers) and contributes to their early demise by vertigo, thin ice, bees, cannibals and sundry other deadly stratagems. Along the way he meets his beautiful cousin Phoebe (Adrienne Eller) who luckily is not ahead of him in the line of succession. He is free to fall in love with her instead of plotting her demise.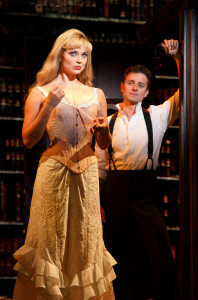 Kristen Beth Williams and Kevin Massey
The score contains some fun numbers but you really won't leave the theatre humming any of them. Tresnjak and his choreographer Peggy Hickey have staged some of them to really put across the campy fun. "Better With a Man" is a gay old frolic between Monty and his fey cousin Henry. "I've Decided to Marry You" is a door slamming love triangle delightfully performed by Massey, Williams and Eller. Massey is charming and unthreatening as Monty and carries the show easily. Williams makes a cunny little vixen, always looking her best in pink. Rapson delivers a lot of variations in playing all the D'Ysquiths. It's a merry romp of a show.
>

Ahmanson Theatre, 135 N. Grand Ave. in Los Angeles. Ends May 1. Centertheatregroup.org or 213-972-4400.