The battle of the sexes has been going on since Eve got Adam to take a bite of that apple in the Garden of Eden. There have been many plays written on the subject since then. One of the more interesting is Caryl Churchill's Cloud 9. The play was originally produced in England in 1979 and the topics of gender identity, sexual repression, sexual liberation and more are still as relevant and prickly today as they were nearly 40 years ago as the new production by Antaeus Theatre Company proves. As with all Antaeus productions, the roles are double cast. My review will feature the actor I saw in the role followed by the name of the other actor sharing the role at some performances.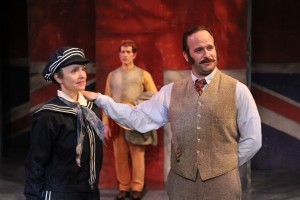 Gigi Bermingham as Edward, John Allee as Joshua and Adam J. Smith as Clive (photo by Karianne Flaathen)
Churchill really challenges her actors and her audience. She has males playing female roles and vice versa. She has a white male play a Black native. She has adults playing children. She sets the action of the play's two acts 100 years apart yet her characters only age 25 years in that same time span. A female might play a male child in Act One and play a grown woman in Act Two. It is mind bending and fascinating and when done as expertly as here under Casey Stangl's nuanced direction the result is theatrical nirvana.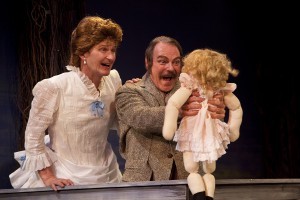 Bill Brochtrup as Betty and Bo Foxworth as Clive with the young Victoria (photo by Geoffrey Wade Photography)
The first act is set at a British outpost in Africa during the Victorian era. The drums tell us that the natives are restless but the Victorians are even more so. Clive (Adam J. Smith/Bo Foxworth) is in charge and protective of his family—wife Betty (Bill Brochtrup/JD Cullum), mother-in-law Maud (Joanna Strapp/Liza de Weerd), son Edward (Gigi Bermingham/Deborah Puette) and daughter Victoria (played by a puppet) who are looked after by nanny Ellen (Abigail Marks/Laura Wernette). His faithful native aide Joshua (John Allee/Chad Borden) seems surly and rebellious to others. Into their safe haven comes their widowed neighbor Mrs. Saunders (Marks again), who is having an affair with Clive, and the manly explorer Harry (David DeSantos/ Graham Hamilton) whose bravado hides his true gay nature. Harry clandestinely has sex with compliant Joshua and the besotted Edward and when he mistakenly outs himself to Clive he is forced into a hasty marriage to Ellen, who has just professed her lesbian attraction to Betty who in turn lusts after Harry.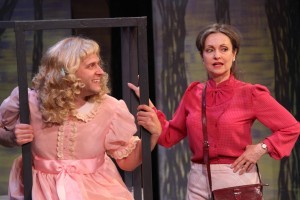 Adam J. Smith as Cathy and Gigi Bermingham as Betty (photo by Karianne Flaathen)
Act Two takes place mostly in a London park in 1979 where the now grown Edward (Brochtrup/Cullum) is a closeted homosexual gardener in an open relationship with the sex obsessed Gerry (Allee/Borden) while Victoria's (Strapp/De Weerd) marriage to Martin (DeSantos/Hamilton) is on the rocks and she is being wooed by divorced lesbian Lin (Marks/ Wernette) who has custody of her unruly daughter Cathy (Smith/Foxworth). The mature Betty (Bermingham/Puette) stuns her children when she announces she has left Clive and is living on her own and working a job. Edward is content to take the woman's role in his relationship with Gerry but Gerry doesn't want to be tied down. Edward eventually ends up in a bisexual and incestuous ménage a trois with Victoria and Lin. Even though Women's Lib and Gay Liberation have blown up stereotypical sexual roles by 1979, the Londoners seem much more serious and unhappy in their relationships than the lusty Victorians did. And as if that weren't enough, the Victorians begin appearing to the Londoners to offer encouragement or support.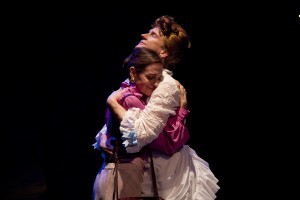 Deborah Puette as modern Betty and Bill Brochtrup as Victorian Betty (photo by Geoffrey Wade Photography)
The acting company is superb, each playing their dual or even triple roles with perfection. Brochtrup's Betty is heartbreaking bound by the confines of her Victorian corset while his Edward is not much better off for living in modern times. Bermingham convincingly plays the sissy that is the young Edward as well as the assured Betty who has finally embarked on a new life for herself. Allee leads the cast in the few musical numbers—patriotic fervor for the Victorians and free-wheeling disco for the Londoners—to make the proceedings even more fun. Stephanie Kerley Schwartz's scenic design is simple yet evocative of the necessary locales needed. A. Jeffrey Schoenberg's costumes are perfectly in sync with the characters. Leigh Allen's lighting is unobtrusive and delicate.

Antaeus Theatre Company, 5112 Lankershim Blvd. in North Hollywood. Ends April 24. 818-506-1983 or www.antaeus.org