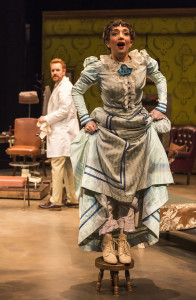 Kasey Mahaffy and Erika Soto (all photos by Craig Schwartz)
You Never Can Tell is one of prolific playwright/author George Bernard Shaw's earliest plays. It was first published, along with five more of his plays, in 1898 and soon received productions in London. It is a comedy and although it contains some very liberated female characters for the time, it doesn't have the wordiness or preaching/teaching format of his later plays. The action is set in an English seaside town where Mrs. Clandon (Deborah Strang) and her three children have taken up residence after living the past 18 years on the Portuguese island of Madeira. Mrs. Clandon left her husband when the children were very young and they have no memory or knowledge of their father. Mrs. Clandon is a famous author of tracts on the modern woman and her eldest daughter Gloria (Jill Renner) subscribes to her mother's ideology and doesn't believe in love or marriage. The younger twins—Philip (Richy Storrs) and Dolly (Erika Soto)–are rambunctious, fun-loving, mischievous rascals.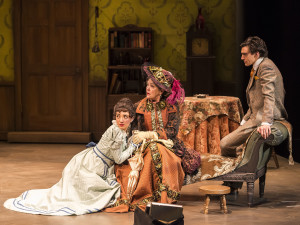 Erika Soto, Deborah Strang and Richy Storrs
The play's action begins with Dolly in a dentist's chair having her tooth extracted. Dr. Valentine (Kasey Mahaffy) has been in practice for six weeks as a "five-shilling dentist" and Dolly is his first patient. He is grateful for her trade since he is behind on the rent to his grouchy landlord Crampton (Apollo Dukakis). Soon the twins have invited both Valentine and Crampton to join their family for lunch on the terrace of their hotel. Valentine eagerly accepts after falling in love at the first sight of Gloria. Crampton also accepts and that's when the real fun begins as Mrs. Clandon realizes her children have unwittingly reunited with their father. Add in family friend McComas (Jeremy Rabb), an uptight lawyer, the accommodating waiter Walter (Wesley Mann), his estranged Queen's lawyer son Bohun (Freddy Douglas) and a masked ball and the fun escalates until the final curtain calls.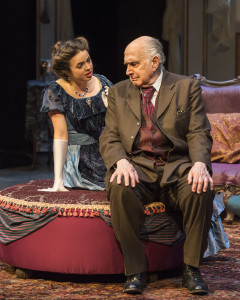 Jill Renner and Apollo Dukakis
Don Llewellyn has designed some lovely settings for the action and Angela Balogh Calin has once again worked her magic on the picture perfect period costumes. Although Stephanie Shroyer's direction keeps the plot moving energetically through its four acts (reduced to two here) she and the majority of the cast seem to be taking the play too seriously. The performances are solid if for the most part unexciting. The twins (Soto and Storrs) are the only ones who seem to really enjoy creating laughter with Shaw's words and their joy is deliciously infectious.

A Noise Within, 3352 E. Foothill Blvd. in Pasadena. Ends May 18. www.anoisewithin.org or 626-356-3100 ex 1.