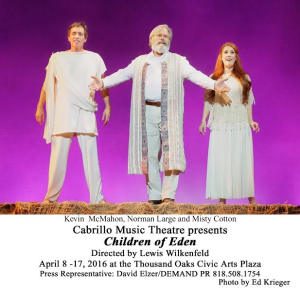 Children of Eden, the biblical musical by John Caird (book) and Stephen Schwartz (music and lyrics) based on Genesis, has been one of my favorite musicals since I saw the American Premiere at Riverside Civic Light Opera in 1995. The current production by Cabrillo Music Theatre is the seventh production of the show I have seen throughout Southern California in the past two decades, the first since Vista's Moonlight Stages award-winning production in 2003.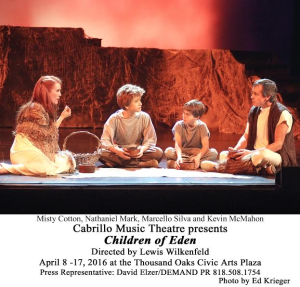 Composer Schwartz (Godspell, Pippin, The Baker's Wife and Wicked among other shows) states that Children is his favorite work. He deserves to be proud of it. The more than two dozen songs in the score range from calypso to jazz to gospel, from ballads to ballet. It's a rich and melodic score without the bombast of a lot of biblical/big themed musicals. The lyrics at times can be a bit too simplistic and groan-worthy, but Schwartz has crafted some truly wonderful and touching love songs between The Creator and his creations, between man and wife, between parents and children. Caird's book is also fairly simplistic and even a bit corny at times but also has some truly heartfelt moments as parents realize they can't always control the actions of their offspring. The first act deals with Adam and Eve and the tragic tale of Cain and Abel. Act Two follows the trials and tribulations of Noah and his family building, stocking and sailing the Ark through The Flood.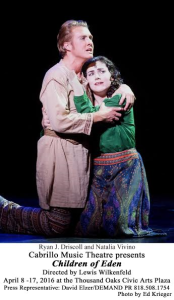 Norman Large provides a stately presence as the benevolent and loving Father who delights in the innocent joy of his children until they begin to make their own choices, choosing their own destinies. Kevin McMahon and Misty Cotton play Adam and Eve and their childish exuberance at naming the animals and falling in love with each other is infectious. But Eve's curiosity won't be dampened and eventually leads to their expulsion from The Garden, never to see Father again. McMahon truly shows the heartbreaking decision he must make between Father and Eve in the beautiful "A World Without You." He really shines as the mature and commanding Noah, fueled by his own doubts but also emboldened by his love for and from his family. His duet with Large on "The Hardest Part of Love" is one of the show's many musical highlights. Cotton displays her wide range, providing highlights as Eve with her upbeat "The Spark of Creation" and with her spiritual rendition of the first act finale of the title tune. As Mama Noah, she doesn't have much to do in Act Two but she gives "Ain't It Good?" the revival tent power it deserves. Ryan J. Driscoll makes a strong impression as the rebellious sons, Cain and Japheth. He strongly delivers the bitter "Lost in the Wilderness." Natalia Vivino gives a strong performance as Yonah, from the condemned race of Cain but the love of Japheth's life. Her "Stranger to the Rain" is an anthem of survival and her duet with Driscoll on "In Whatever Time We Have" provides the show's most poignant moment.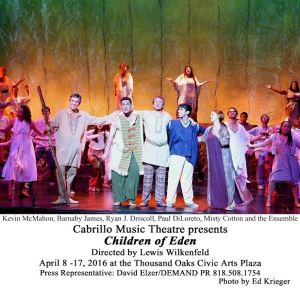 With all these great elements in place, it is a shame this latest production of this rarely seen musical is so out of kilter. Director Lewis Wilkenfeld has chosen to stage the show like a Bible Study Pageant or children's theatre. His show begins with a father reading a bible story to two children in bed, before seguing into "Let There Be," the opening number about the Creation. Wilkenfeld also has a tendency to over use The Storytellers, a Greek Chorus of singers/dancers that help propel the story. Usually they are kept in the background or on the sidelines. Here they seem to be residents of an overpopulated Eden. The children, who are needed to portray the many and varied animals in "The Naming" and "The Return of the Animals" often sit on stage watching the action. It gives Children more the look and feel of Joseph and the Amazing Technicolor Dreamcoat. He also stages a very violent rendering of Abel's death by the hand of Cain. It is usually staged as an accident as Cain means to strike Adam in his frustration and anger while Abel steps in the way to protect his father. Here is just comes across as overkill. Michelle Elkin's choreography is way too busy and makes for some very congested dancing with seemingly hundreds of bodies thrashing about the stage. She also diffuses "In Pursuit of Excellence," the Snake's seduction of Eve, by not forming the various chorus members into a sinuous body. Instead she has them pass a hat from one to another when they speak or sing, but then they are soon speaking and singing when not wearing the hat. Costume designer Noelle Claire Raffy dresses the snake performers in black leotards, making them appear like a modern jazz dance company rather than a serpent. Raffy's costumes for the animals are overdone, giving the show a decidedly Lion King look. Jeff Cason's scenic design relies too heavily on projections that detract from the show's simple concept. Christina L. Munich's lighting and Jonathan Burke's sound are well done. Musical Director and Conductor Cassie Nickols 13-piece orchestra makes the score sound glorious. If you have never seen Children of Eden or heard this marvelous score, please don't miss this rare opportunity. But also, don't think this is the perfect realization of the material.

Kavli Theatre, 2100 Thousand Oaks Blvd. in Thousand Oaks. Ends April 17. 800-745-3000 or Ticketmaster.