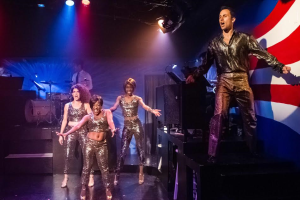 Andrew Bongiorno as Peter Allen (all photos by Casey Kringlen)
Peter Allen was an Australian entertainer/songwriter who achieved success as part of the Allen Brothers duo and was brought to the USA in the mid-1960s as an opening act for Judy Garland. He achieved notoriety when he eventually married Garland's daughter, Liza Minnelli, and the couple partied nightly in New York. Their marriage dissolved after seven years because of Allen's homosexuality but he finally achieved true fame as a solo performer, especially with his sold out performances at Radio City Music Hall. His long time male lover, Greg, died of AIDS in 1984 and Allen himself succumbed to the disease in 1992, after composing the music for and starring in the big Broadway flop Legs Diamond. All of this and more was detailed in Nick Enright's The Boy From Oz, which premiered in Australia in 1998. In 2003 playwright Martin Sherman restructured the show and it made its Broadway debut starring Hugh Jackman in the title role, a role that won him the Tony Award. The show only ran a year, the length of Jackman's contract, because the producers felt audiences wouldn't pay to see anyone else in the role. They even closed down the show for two weeks in mid run for while Jackman was on vacation. A longtime friend, a six decade theatre professional, confided in me that he felt Jackman gave the best male performance in a musical he had ever seen. I was lucky enough to have seen Jackman in the role shortly after its opening and it was one of the most entertaining, star-quality, charismatic performances I have ever witnessed in my nearly 50 years of theatre going.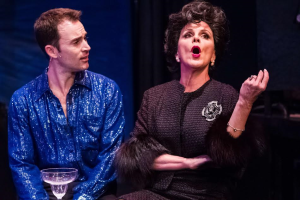 Andrew Bongiorno as Peter Allen and Bess Motta as Judy Garland
The show was a biographical jukebox musical but oh, what music! Allen wrote some really catchy and melodic tunes—"Not the Boy Next Door," "Bi-Coastal," "Everything Old is New Again" and especially "I Go to Rio" as well as enduring ballads such as "I'd Rather Leave While I'm in Love," "I Honestly Love You," "Love Don't Need a Reason" and the Oscar winning "Best That You Can Do" better known as the theme from Arthur. Those songs and nearly 20 more are in the musical. The play is sort of a memory play with Allen telling the audience the story of his life as he chooses to remember it. He prefers the big jazzy moments over quieter, emotional scenes and sometimes he gets events out of sequence (Garland died a few years before Minnelli's Liza With a Z) but who cares. This show is one of the most fun experiences you can have in a theatre!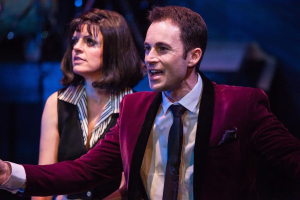 Jessica Pennington as the young Liza Minnelli and Andrew Bongiorno as Peter Allen
Finally, nearly 13 years after Broadway, the West Coast Premiere is taking place at the 55-seat Lex Theatre in Hollywood, home to Celebration Theatre. This reviewer was dancing in his seat throughout the evening, a smile never leaving his face. Director Michael A. Shepperd's production is an amazing feat considering the small confines of The Lex and the un-Broadway like budget of Celebration. Choreographer Janet Roston has accomplished a terrific achievement—her choreography on that postage stamp sized stage by her seven person chorus is stunning. The music sounds phenomenal under the musical direction by Bryan Blaskie leading the four-piece on stage band. Michael Mullins' astonishing, colorful costumes take you perfectly back to the fashions of the 1960s, 1970s and onward while giving Allen, Garland and Minnelli their distinctive, iconic looks.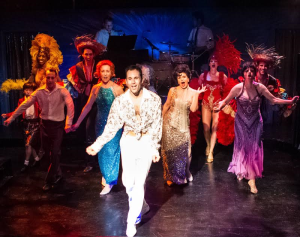 Andrew Bongiorno as Peter Allen leads the cast in "I Go To Rio"
The cast is superb starting with Andrew Bongiorno, making his US theatre debut, as Allen in a truly star-making performance. No one could hope to equal Jackman's performance, but Bongiorno makes the role fit like a pair of tight gold lame pants. He's virtually never off stage and his charisma and playful nature easily breach the fourth wall and make the individual audience members feel like he is talking to them and only them. His singing, dancing and overall exuberance carry the show. Bess Motta is a real find—her Garland is everything anyone could hope for, down to that special catch in her voice. She makes "All I Wanted Was the Dream" sound like a true Garland recording. Jessica Pennington deftly assays the shy, young, brow-beaten Liza who blossoms under Allen's loving attention until she becomes the superstar she was destined to be. Pennington has a deeper, richer voice that Minnelli and her duets with Bongiorno are truly wonderful. Kelly Lester plays Allen's loving, encouraging, supportive mother. She really only has one song, but it's the eleven o'clock number, "Don't Cry Out Loud," and Lester knocks it out of the park. Michael Mittman adds lovely support as Allen's lover, Greg. Do I have anything negative to say about this production? Yes–it ended. Don't miss The Boy From Oz. I wanted to see it again as soon as the curtain calls were over and so did my Plus One.

Celebration Theatre, 6760 Lexington Ave. in Hollywood. Ends Aug. 21. 323-957-1884 or www.celebrationtheatre.com