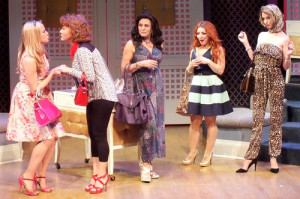 Meredith Patterson, Cynthia Ferrer, Anita Barone, Jenna Coker-Jones and Adrienne Visnic (all photos by Sasha A. Venola)
Bravo TV has covered The Real Housewives from New York City and New Jersey to Atlanta with the newest franchise in Dallas. Locally the housewives of Beverly Hills and Orange County have been explored but it's fallen to playwright/composer Molly Bell to reveal the women in a tony enclave in the San Fernando Valley. Bell's The Real Housewives of Toluca Lake: The Musical is being presented at the Falcon Theatre in neighboring Burbank. The matinee audience I was part of was filled with knowing and envious housewives who hooted and hollered for these parodies of reality TV's staple of femininity. Bell has crafted a very funny show with a lot of insight at wealthy, privileged white women and how they spend their days. Botox injections, wine at lunch, shopping, bitching, exercise classes, backstabbing, inane fundraisers and more.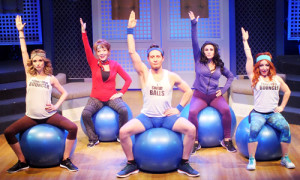 Adrienne Visnic, Cynthia Ferrer, Marc Ginsburg, Anita Barone and Jenna Coker-Jones
The quintet of housewives are grieving the loss of one of their own, Poppy, who took her own life after learning she was about to be ousted from the circle of wives. She gets her revenge by taking all her billions with her and anointing a Head Housewife, which causes immediate dissension in the ranks. Beezus (Cynthia Ferrer) feels that if anyone should be granted that title it should be her since she is the wealthiest. Joanne (Meredith Patterson) gratefully accepts the mantle and ruffles the feathers of her former BFF Babette (Adrienne Visnic). Penny (Jenna Coker-Jones) is too wrapped up in Jesus and her fey husband to really care while newly divorced Lulu (Anita Barone) is involved in her rhinoplasty and illicit affairs. However Joanne's gilded life is soon ended when her husband flees the country because of financial fraud, leaving her penniless and looking for her first job.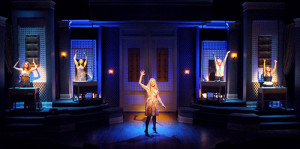 Adrienne Visnic, Anita Barone, Meredith Patterson, Cynthia Ferrer and Jenna Coker-Jones
Bell's book is very funny and contains some great bitchy one-liners. A Bonnet fundraiser for Deaf Dogs is one of the show's highlights. Her score is passable but unmemorable. The show needs to be trimmed, starting will all the reprises of Joanne's theme song "Amazing." Cut down to a tight 90 or 100 intermission-less minutes would give the show more zip. Director Roger Bean keeps the action moving smoothly and swiftly on Stephen Gifford's multi-level scenic design. Roger Castellano's spirited choreography, especially in the bouncing balls number, is another highlight. David Kay Mickelsen's costumes are a character unto themselves and Jean-Yves Tessier's lighting is colorful. The cast is very attractive and very into playing the absurdities of their characters without making them into cartoonish figures. Marc Ginsburg is the solo male and probably the hardest working man in Burbank in not all show business. He's a quick change artist and a chameleon as he plays a multitude of roles including a fitness instructor, shopping channel host, guru and a several husbands. Housewives is a delicious romp at times but could use some serious trimming.

Falcon Theatre, 4252 Riverside Dr. in Burbank. Ends May 1. 818-955-8101 or www.falcontheatre.com