What kind of play is Jesse Eisenberg's The Revisionist, receiving its Los Angeles premiere in the intimate Lovelace Studio Theater in Beverly Hills? A culture clash dramedy? A generation gap comedy? A cautionary tale of family? Another holocaust drama? An intense character study? The answer is a bit of all of the above. Actor Eisenberg's (Oscar nominee for The Social Network) second play was produced off-Broadway in 2013 with the actor and Vanessa Redgrave in the leading roles.
Under the tight direction of Robin Larsen, Seamus Mulcahy and Deanna Dunagan essay the roles of distant second cousins. David is a young writer from New York, with one young adult novel published, who hopes that spending a week in the quiet of his cousin Maria's apartment in the small town of Szczecin, Poland will break his writer's block. David is a self-absorbed, hash pipe smoking privileged child in a man's body, with no real contact with his immediate family. His first novel was an anti-fascist allegorical tale with talking animals. It sold 64,000 copies worldwide and was translated into Korean. He is six weeks late getting his second novel to his editor who has requested more comedy in the sci-fi story. Since he was easily distracted by everything else in New York and there was a food shortage in Katmandu, David chose to visit the distant cousin he has never met.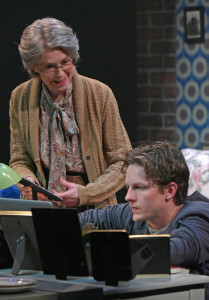 Deanna Dunagan and Seamus Mulcahy (photos by Kevin Parry)
Maria is in her seventies, a Jewish holocaust survivor who returned to her hometown after losing her entire family to the Nazis. She is lonely and starved for companionship, especially from her extended and distant family. Her small apartment is filled with photos of her American cousins whom she has never met and whom David, for the most part, has never heard of. She watches CNN on her small TV to keep up on her English since none of the townspeople will speak English with her. Or even speak Polish with her she admits. Her only friend seems to be the middle-aged taxi driver, Zenon (Ilia Volok), who recently lost his mother and seems to have taken on Maria as a surrogate mother. He takes her grocery shopping weekly and drives her to other errands. David's visit means the world to Maria (she even has a copy of the negative New York Times review of his book framed on her wall) and she is disappointed he doesn't feel the same way. She puts up with his surly attitude and strange-to-her dietary habits at first but eventually grows tired with his childish and oafish behavior and a final confrontation looms.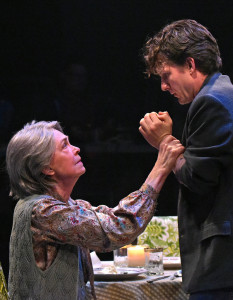 Deanna Dunagan and Seamus Mulcahy
The action takes place in the cramped quarters of Maria's apartment, skillfully rendered along the length of the theatre by scenic designer Tom Buderwitz. The seating is tennis style with the audience separated by the playing space, making for a close up look at this detailed work. Mulcahy and Dunagan seamlessly inhabit their characters. He pushes just enough to make David almost totally unlikable but then with a smile or a gesture wins you over again. She artfully shows us a woman who has spent most of her life alone and is desperate for any human interaction. Together they make a dynamic duo.

Wallis Annenberg Center for the Performing Arts, 9390 N. Santa Monica Blvd. in Beverly Hills. Ends April 17. 310-746-4000 or www.thewallis.org.