Geoffrey Nauffts' play Next Fall made waves in New York in 2010 when it was produced on Broadway by Elton John and his husband David Furnish among others and was nominated for a Tony Award. The 2011 Geffen Playhouse production featured a stellar cast headed by Lesley Ann Warren, Jeff Fahey, James Wolk and the playwright. The current Macha Theatre production is a smaller, simpler yet still engrossing and moving version.

Jay Ayers and Tom Berklund (all photos by Zeke Ruelas)
Naufft traces the five-year relationship between two disparate gay men—a 40 year old wise-cracking, bitter, underachieving agnostic and a much younger, aspiring actor/cater waiter who is a fundamentalist Christian. Adam (Jay Ayers) and Luke (Tom Berklund) meet cute at a party where Luke supposedly gave Adam the Heimlich Maneuver just because he was attracted to him. They are soon moving in together and both working at a candle shop owned by Holly (Rachel Miles). Their story is told in flashbacks as Luke is in intensive care after being hit by a cab and suffering major head trauma. His long divorced but still bickering parents, Butch (Stephen Mac Howard) and Arlene (Zachary Barton), have arrived from Tallahassee and have to make the agonizing decision on whether to pull the plug on their son. Adam's opinion doesn't count since he's not family because Luke never came out to his religious, bible quoting parents.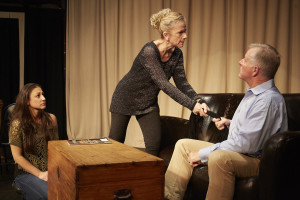 Rachel Miles, Zachary Barton and Stephen Mac Howard
Robin Long's direction keeps the action flowing smoothly through the many scenes as the action keeps switching from the present hospital waiting room to flashbacks of the lovers' apartment. Adam and Luke really do seem like a true Odd Couple, not just the age difference but more strikingly their deep divide on religion. Luke believes in The Rapture while Adam ridicules him. Even after five years together, Adam is still not at ease with Luke's praying before meals or after sex. Berklund infuses Luke with a sweet, gentle kindness and loving acceptance that carries the relationship. Ayers Adam is so antagonistic it's surprising he manages to keep a lover and friends.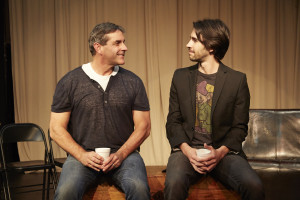 Jay Ayers and John Shartzer
Barton solidly inhabits her redneck mama while Howard seems at a loss most times. Miles creates a nice character as Holly, Adam's longtime supportive friend. John Shartzer doesn't make much on an impression as Brandon, another religious gay man who is constantly clutching his bible and explains to Adam that even though he likes gay men, he would never cross the line and love a man. That is the reason he gives for having ended his close friendship with Luke.
Nauffts has given an interesting twist to the usual gay love story/medical tragedy that the theatre spit out constantly in the late 1980s. Can a devoutly religious person accept their gayness and find true love and happiness? This play gives you something to think about on the way home.

Macha Theatre, 1107 N. Kings Road in West Hollywood. Ends May 22 800-838-3006 or www.nextfallweho.com