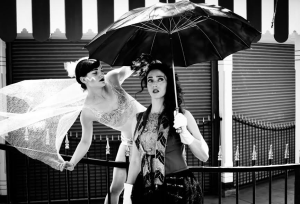 Alana Marie Cheuvront and Mercedes Manning (all photos by April Kelly)
Avant-garde or experimental theatre began in the late 19th century as a rejection of mainstream theatre. It introduced a different use of language and body to change the audience's mode of perception. Directors Peter Sellars and Peter Brook are considered masters of the form. Theatre companies such as The Living Theatre, The Open Theater, and in Los Angeles Theatre Vanguard, were dominant, particularly in the 1960s and 1970s. Last year this reviewer witnessed two current practitioners of the craft—Kneehigh Theatre's Tristan & Yseult at South Coast Repertory and Santa Barbara's Proboscis Theater's La La La Strada at the Hollywood Fringe Festival. Both took familiar tales and expanded on them through the use of exaggerated physical and verbal gymnastics.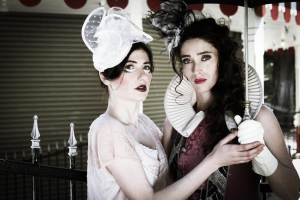 Robyn Buck and Mercedes Manning
Los Angeles' Fugitive Kind troupe is not up to their level of expertise as of yet. Along with playwright Meghan Brown and director Amanda McRaven, they have developed Shine Darkly, Illyria, a sort of a continuation of Shakespeare's Twelfth Night. The inhabitants of Illyria, an island slowly sinking into the sea because of ecological disasters, party nightly while The Moon (Alana Marie Cheuvront) pole dances for their enjoyment. They retell the story of how now married couples Olivia (Mercedes Manning) & Sebastian (Jim Senti) and Viola (Sage Howard Simpson) & Orsino (Jason Vande Brake) first met and courted. But the marriages are on shaky ground now because of Olivia's addiction to sniffing moon dust and Viola's deep attraction to Olivia. There are some good ideas in this new plot but the playwright and company constantly indulge in amateurish and juvenile scatological language and shenanigans. However the company's physical prowess is deftly showcased. If only their words had the buoyancy of their actions. Karyn Lawrence's lighting, Allison Dillard's costume and Ray Salas's sound designs were all well done.

McCadden Place Theatre, 1157 N. McCadden Pl. in Hollywood. Ends May 29. www.fugitivekind.org