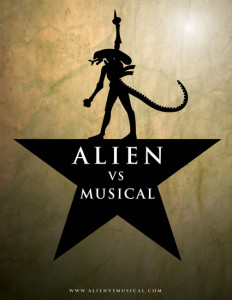 There are some truly twisted musical theatre minds behind Alien Vs. Musical which was a big hit at the 2015 Hollywood Fringe Festival. It's back now in a somewhat expanded version for a limited five-performance run in this month's Festival. The music and lyrics are by Erik Przytulski and he and Steve Troop wrote the book, with the latter also responsible for the Creature Design. The show is a real hoot and a must see destination for musical theatre aficionados.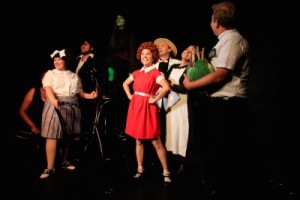 The cast from the Land of Musicals
A group of iconic musical theatre characters are living together peacefully in The Land of Musicals—Danny Zuko from Grease (Christopher Bunyi), Harold Hill from The Music Man (Nick Emmett McGee), Elder from The Book of Mormon (Taylor Minckley), Hairspray's Tracy Turnblad (Ally Mulholland), Jean Valjean from Les Miserables (Matthew Noah), Wicked's Elphaba (Suzanne Petrela), Maria from The Sound of Music (Brianne Sanborn) and the titular orphan from Annie (Allie Costa). They have gathered to celebrate the birthday of one of their own, Dreamgirls's Effie (Levanna Atkinson-Williams. Mark from Rent (Brad Simanski) is there to record it all. When Tracy brings a strange plant she found as a gift for Effie it explodes onto Elder's face and the fun really begins. As the creature continues to grow and the numbers of the cast continue to diminish, various would-be heroes emerge only to be vanquished until one of them morphs into a bitch-slapping Ripley for a rip roaring final battle.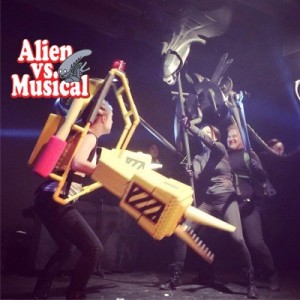 The climatic final battle
Przytulski has masterfully created a song for each character that sounds like something that would mesh perfectly in their signature shows. Some highlights include a Jets/Sharks (now a troupe of Street Marines) dance off with the Alien, Maria's beloved Mother Superior channeling her inner Deloris Van Cartier while leading a group of gun toting nuns and a rap-off between Hamilton and Harold Hill. Costa, Mulholland and Petrela have the strongest voices but all contribute to the non-stop merriment. Keyboardist and music director Emily Cohn leads the four-piece onstage band and they really rock the score. Taylor Moten's costumes easily capture each characters' distinctive look. Regina Laughlin's choreography leans heavily on the use of Fosse jazz hands but it works because the whole show is so over the top, and tongue is planted firmly in cheek, homage style.

Sacred Fools Main Stage Theater, 1076 Lillian Way in Hollywood. July 17, 24 & 29. www.hollywoodfringe.org