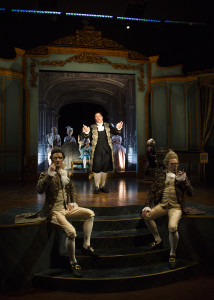 Salieri (Marco Barricelli center) and his gossipmongers (Christian Barillas and Louis Lotorto) all photos by Debora Robinson
Peter Shaffer's Amadeus took London by storm when it opened in 1979 directed by Sir Peter Hall and starring Paul Schofield, Simon Callow and Felicity Kendall. The 1980 Broadway production starred ian McKellen, Tim Curry and Jane Seymour and won the Tony Award for Best Play. The National Tour played Los Angeles' Shubert Theatre with John Wood and Star Wars Luke Skywalker (Mark Hamill) in the roles of opposing composers Antonio Salieri and Wolfgang Amadeus Mozart. The 1984 film won eight Oscars including Best Picture. David Suchet and Michael Sheen starred in the 1999 revival which played the Ahmanson Theatre before heading to Broadway. Playwright Shaffer took plenty of artistic license in fashioning his highly theatrical battle of mediocrity versus genius. The language is rich and thrilling to the ears. Costa Mesa's South Coast Repertory mounted a stunning production in 1983 and is currently mounting another must-see version.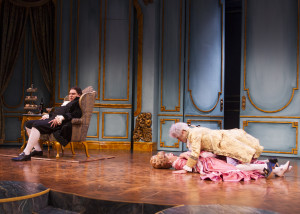 Salieri (Marco Barricelli) witnesses Constanze (Liesel Allen Yeager) and Mozart (Asher Grodman) sexually cavorting
Director Ken Nicholson and his stellar cast really seem to relish working with such flamboyant and well-crafted material. Viewing is a delight from start to finish and the three-hour running time just zips along. This production provides master classes in writing, directing and acting. Marco Barricelli, just seen once previously at SCR in 1996's The Taming of the Shrew, dominates the proceedings as Salieri, a successful Italian composer with an important post in the Hapsburg Court. He chews the scenery in the most delicious of ways. Asher Grodman easily conveys the youthful exuberance and boyish charm as Mozart, a young, struggling composer, a former child prodigy on the outs with his influential father. Liesel Allen Yeager is the equally exuberant and lusty Constanze, the love of Mozart's life.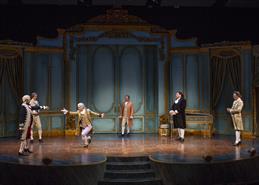 Mozart (Asher Grodman) meets Emperor Joseph II (Peter Frechette)
Salieri's fate is to realize the genius of Mozart's compositions while most of his contemporaries are baffled by them. Yet Salieri cannot forgive his God for bestowing such gifts on such a profane and boorish boy. At every turn he seeks to destroy Mozart's career while seeming to actually be his benefactor.

Salieri (Marco Barricelli) is overwhelmed by the genius of Mozart's compostitions
Music from Mozart's operas is prominently featured during the play and Darron L. West's sound design is exemplary. Alex Jaeger's lush costumes and Lop Chi Chu's luscious lighting play off John Iacovelli's theatre cum palace scenic design. Amadeus writes a splendid ending to SCR's 50th glorious season of theatre in Southern California.

South Coast Repertory, 655 S. Town Center Dr. in Costa Mesa. Ends June 5. www.scr.org