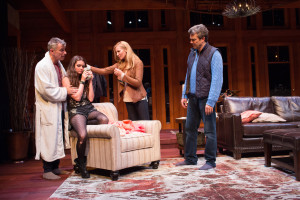 Arnie Burton, Emily Robinson, Jennifer Westfeldt and Jon Tenney (All photos by Darrett Sanders)
Alexandra Gersten-Vassilaros's Big Sky is receiving its World Premiere production at the Geffen Playhouse. According to the program notes, the play was already written when it was first brought to the Playhouse by director John Rando. But it was given a grant by the Edgerton Foundation that funded extra production costs and workshops, of which there were three. If the play that is currently on stage in the Gil Cates Theater is the result of all that extra time and money, the workshop system is seriously broken. The play is one of the biggest disasters seen on a local stage this year and I'm not talking about the snowstorm raging outside of the Ritz-Carlton Condo in Aspen when the action is set. Jon Gottlieb's windy sound design and Jaymi Lee Smith's in the dark lighting design set that storm up perfectly. Derek McLane's breathtaking scenic design is the production's strongest asset.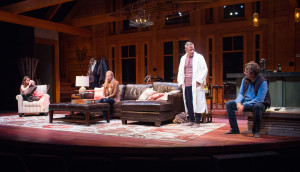 Emily Robinson, Jennifer Westfeldt, Arnie Burton and Jon Tenney
Jack (Jon Tenney) has been unemployed for five years and is desperately interviewing for a big money job with an employer who is putting up Jack and his family in the condo during the process. Jack's wife Jen (Jennifer Westfeldt) quit her job three years ago to devote herself to charitable causes, including volunteering at a hospice where she fell in love with a patient. Her love gave her lover the will to live and she is now planning to leave her marriage as soon as her husband lands the job. Their teenage daughter Tessa (Emily Robinson) is preparing for college but also having a heated sexual affair (with sex videos on her phone to share) with the elevator operator at their New York building. Tessa's lover is half Native American so it affects her doubly hard when in an alcohol and marijuana haze the car she was driving hit a baby buffalo on the interstate, causing its death. Of course there is the token gay best friend, Jonathan (Arnie Burton), to provide the snappy one-liners. I can't fault the actors–they didn't write the words–they were hired to say the words. The playwright brings up a lot of interesting topics but it's just rambling verbiage. The second act is mostly everyone screaming at everyone else. The final ludicrous scene (I don't want to spoil the shock in case you already bought your ticket) is representative of the entire play. It's an empty and meaningless gesture that accomplishes nothing and makes no sense whatever.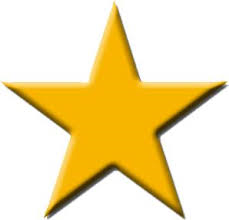 Geffen Playhouse, 10886 Le Conte Ave. in West Los Angeles. Ends July 17. 310-208-5454 or www.geffenplayhouse.org