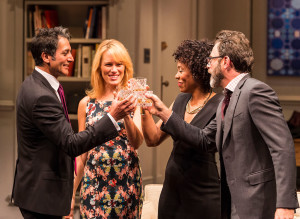 Hari Dhillon, Emily Swallow, Karen Pittman and J Anthony Crane (all photos by Craig Schwartz)
Ayad Akhtar's Disgraced received its first production in Chicago in 2012 and won the Pulitzer Prize in 2013, yet it feels and sounds like it could have been written last week. It is one of the best productions to grace the stage of L.A.'s prestigious Mark Taper Forum in many years. It harkens back to the heyday of the Taper in the 1960s & 1970s under the stewardship of Gordon Davidson, who was in the opening night audience for this play. Such hot button, topical, political plays like In the Matter of J. Robert Oppenheimer, The Trial of the Catonsville Nine, Savages, Ashes, Black Angel, Zoot Suit and others were a staple of the Taper seasons during those turbulent decades.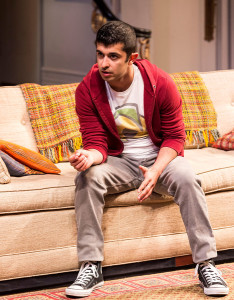 Behzad Dabu
Disgraced is set in 2011-2012 in the New York city home (a well-appointed set by John Lee Beatty) of high-powered corporate lawyer Amir (Hari Dhillon) and his artist wife Emily (Emily Swallow). Sensitive of his Muslim background (although he considers himself an apostate from the religion), in a post 9/11 world the American-born Amir tends to gloss over his heritage to advance his career. Amir's Pakistani-born immigrant cousin Abe (Behzad Dabu) has asked Amir to work on behalf of the local Iman who has been arrested for suspicion of raising money for terrorist groups. Amir refuses until his wife also pleads with him. His Caucasian wife has embraced Islamic artistic motifs in her paintings and is hoping their Jewish American friend and Emily's art dealer Isaac (J Anthony Crane) will finally include her work in his next show. Isaac's African American wife Jory (Karen Pittman) is also a lawyer at Amir's firm. The two couples meet for dinner on an auspicious evening—Isaac is showing some of Emily's paintings in his next show. As the foursome discuss art, religion and politics with lots of liquor and little food, the passions and tempers escalate until there is a brutal confrontation that ends not only the friendships but the marriages.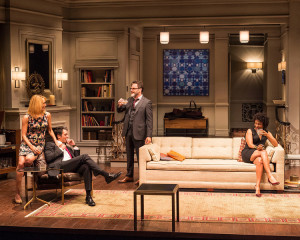 Emily Swallow, Hari Dhillon, J Anthony Crane and Karen Pittman
Director Kimberly Senior keeps a tight rein on her cast and slowly lets the tension build until the inevitable explosion as deep-seated religious and ethnic prejudices rear their ugly heads. The action takes place in four seasonal scenes in a very taut 90 minutes. The cast is exemplary. Akhtar's script is intelligent and precise, giving the audience, no matter what their backgrounds, a lot to think about and discuss on the way home and for days afterward. Disgraced is sure to be one of the highlights of the 2016 theatre year in Los Angeles.

Mark Taper Forum, 135 N. Grand Av. in Los Angeles. Ends July 17. www.centertheatregroup.org