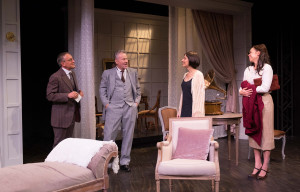 JD Cullum, James Sutorius, Nike Doukas and Kwana Martinez (all photos by Facet Photography)
The Antaeus Theatre Company is ending their tenure in North Hollywood with a stunning production of Henrik Ibsen's classic Hedda Gabler. Director Steven Robman and his talented cast are working with the 2004 adaptation by Andrew Upton for the Sydney Theatre Company and it gives the play a very modern feel. That feeling is also tangible in Robman's placing the action in the 1920s, aided immensely by Se Hyun Oh's lush scenic design and Leah Piehl's fashionable costumes.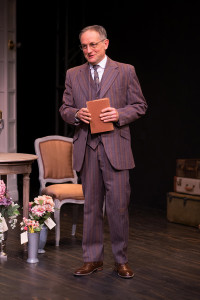 JD Cullum as Jergen Tesman
Hedda (Nike Doukas), the overly privileged daughter of the deceased General Gabler, has finished with flirtation and settled into a less that desirable marriage for herself with the scholarly but not wealthy Jergen Tesman (JD Cullum). They have just returned to their newly purchased home after a six-month honeymoon where Tesman spent his time in libraries doing research for his next book while Hedda was remained bored in their hotel suites. Tasman's doting Aunt Julle (Lynn Milgrim) visits them on their first day back, alarmed at the spendrift ways of Hedda and her treatment of her devoted maid Berte (Karianne Flaathen) Julle has graciously lent them. The duplicitous Judge Brack (James Sutorius) also visits, dangling a professorship at the university in front of Jergen while trying to seduce Hedda. When Hedda's old schoolmate Thea (Kwana Martine) arrives with good and bad news about Lovborg (Ned Mochel), Jergen's rival academic and Hedda's old flame, the action begins to build to its shattering climax.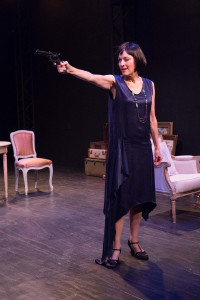 Nike Doukas as Hedda Gabler
Cuillum gives a nuanced performance, shy about his luck in winning Hedda's hand, jealous of Lovborg's best seller intellectual acumen, loving in his deep respect and affection for his Aunt. Great support is given by Sutorius, casually slimy and charming, and Milgrim, ditheringly delightful. But the play belongs to Doukas. She rules the stage every moment she is on it and she is seldom absent from it. Her malicious glee in controlling the lives of all about her because of her innate boredom is artfully conveyed. She is like a Black Widow Spider, playfully toying with the flies caught in her sticky web of lies and deceit. (As with all Antaeus's productions, the roles are double cast. The actors mentioned in the review and shown in the photos are the ones that were on stage at the performance I reviewed.)

Antaeus Theatre Company, 5112 Lankershim Blvd. in North Hollywood. Ends July 17. www.antaeus.org