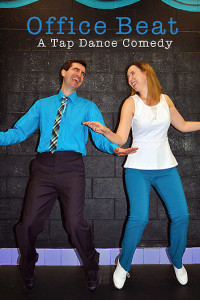 Tap Overload's Office Beat-A Tap Dance Comedy is sure to be hailed as one of the most creative endeavors of the current Hollywood Fringe Festival. Writers, directors and choreographers Gabe and Mindy Copeland have created a truly unique experience that will have you smiling from ear to ear, from start to finish. This is a no talking, no singing, all tap dancing musical with original music by Andrew Van Vlear. Thirteen very talented hoofers keep the beat and keep their feet tapping for an hour.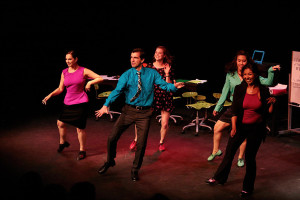 The scene is a happy office environment where everyone taps their workday away. They tap their way through everything from the "Morning Memo" to "Coffee Break" to "Elevator Soft Shoe" and "Office Romance". When new hire Gabe arrives, instead of being handed the usual office supplies, he is given a pair of tap shoes. Mindy is about to be made boss when a new boss (Jimmy Fisher) arrives. He institutes a strict no tap dancing policy that does not sit well with the employees. As he starts to fire those he catches tapping, the remaining tappers go into revolt mode.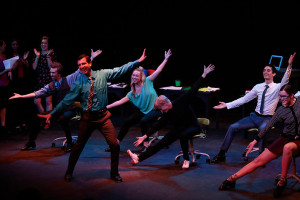 The tapping is non-stop and the energy never flags. Besides the Copelands the talented ensemble includes Clarissa Yoshiko Chun, Hilary Cunningham, Racquel Dirckze, Heidi Drinkward, Erin Esparza, Aaron Pardini, Brook Paulsen-Zelus, Gary Roberts, Valerie Rockey, and Angela Todaro.

Sacred Fools Theatre Main Stage, 1076 Lillian Way in Hollywood. July 2. http://www.hollywoodfringe.org/projects/3432