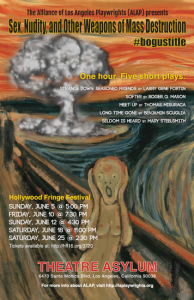 According to Wikipedia, "in recent years the 10-minute play has emerged as a popular subgenre of the one-act play, especially in writing competitions". The Alliance of Los Angeles Playwrights held a competition among their members to choose the 5 short one-acts that comprise their Hollywood Fringe Festival entry Sex, Nudity, and Other Weapons of Mass Destruction #bogustitle. There was nudity, there was implied sex but just as in Iraq, there were no WMD's to be found. But there were some interesting, funny, quirky and touching works. A little something for everyone.
Benjamin Scuglia's Long Time Gone found Daniel (Jeffrey Paul Morgan) and Barbara (Linda Rand) bemoaning the fact they were seated at a table far, far away from the action at yet another gay wedding reception. They commiserated over the fact that at their age, gay marriage had never really been in their plans but now they had to rethink their options.
Mary Steelsmith's Seldom Is Heard dealt with a growing problem—disabled veterans returned home from the war against terrorism only to be confronted by prejudice from friends and neighbors. Ivan (Olivier Tramino) is one such veteran, handicapped because of shrapnel in the brain and cared for at home by his loving wife Hannah (Rosie Mandel). Hannah has to deal with the officious Marilyn (Leslie Ann Moore) who doesn't want the sensibilities of the neighborhood compromised by anyone seeing Ivan in his wheelchair.
Larry Gene Fortin's Strange Town: Seasoned Friends features two long-lived sisters—Charlotte (Regina Mocey) and Lizzie (Holly Hawk) recuperating after the latest baby shower they hosted at their Strange Town Café. Today's honoree is expecting quintuplets and the sisters were delighted and reminiscing about other multiple births and home cooked delicacies. The twist is out of Bradbury or King or any other writer of the macabre.
Roger Q. Mason's Softer found former slave Ishmael (Scot London) finally packing to leave his former master and sex buddy Charlie (Austin Nimnicht) a few months after the end of the Civil War. The boys started their sexual relationship at age 8 and it wasn't until recently Ishmael discovered he had other options available to him. It's an interesting dilemma and one worthy of further exploration.
Thomas J. Misuraca's Meet-Up is a comedy gem, polished to perfection by director Gregory James. Jane (Royana Black) is hosting a Meet-Up group at a tapas bar. Unfortunately the irrepressible Cyndee (Heidi Appe) is the only one to show up. Cyndee's brash behavior and language are a real delight to watch and Appe deftly delivers the laughs. Black gives great reactions.

Asylum @6470 Santa Monica Blvd. in Hollywood. June 12, 18 7 25. http://www.hollywoodfringe.org/projects/3720