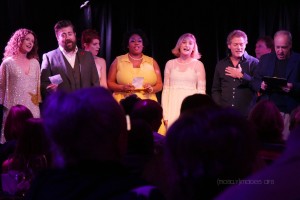 The entire cast of Kritzerland #68 (all photos by Amy Francis Schott)
For the 68th Kritzerland at Sterling's Upstairs at the Federal on Sunday, June 5, producer/host Bruce Kimmel deviated from his usual Broadway potpourri with a nostalgic romp through the pop music of the 1970s, heyday of the Singer/Songwriters. It was like taking an herbal induced trip in a time machine while listening to your favorite Top 40 radio station or your very special mix tape. Groovy, man, just groovy.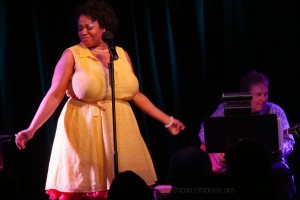 Constance Jewell Lopez with Grant Geissman on guitar
Although the cast had extensive musical theatre credits, they also possessed the pop style voices needed for this style of show. Constance Jewell Lopez delivered a sultry "If Only for One Night," before morphing into a female Barry White with "You're My First, My Last, My Everything." And then she brought down the house with her heartfelt "Bridge Over Troubled Water." Brava Diva!

Jean Louisa Kelly
Jean Louisa Kelly was stellar with her moving rendition of Carly Simon's "That's the Way I've Always Heard It Should Be." Kelly also displayed her sly comic side with Paul Simon's "50 Ways to Leave Your Lover." Guitar maestro Grant Geissman provided additional backup up to musical director/pianist Brian P. Kennedy on several numbers while really getting to riff in his solo turn on Leon Russell's "This Masquerade."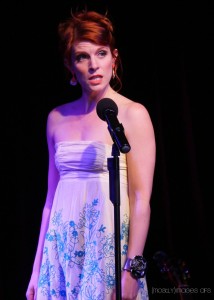 Keri Safran
Geissman provided accompaniment to Kimmel's two solos, "Second Avenue" and "Terminal," songs which were a good fit for Kimmel's mellow tones. Keri Safran did a feline perfect rendition of Laura Nyro's "The Cat Song" and then had the audience really laughing with her impressions of a slew of singers—Liza, Britney, Dolly, Cher, Julie Andrews and more—all performing Carly Simon's "You're So Vain."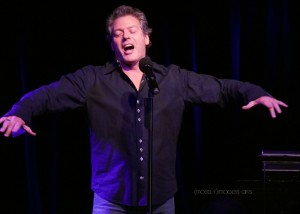 Kevin Spirtas
Sami Staitman showed the maturity of an old soul in her beautiful interpretations of Elton John's "Goodbye Yellow Brick Road" and a trio of Carole King songs. Eric Peterson got his Motown vibe going with his Stevie Wonder mashup of "You Are the Sunshine of My Life" and "Isn't She Lovely." Special Guest Kevin Spirtas (who was the standby for Hugh Jackman in Broadway's The Boy From Oz) finally got to show us his version of Peter Allen with his dynamic rendering of "Once Before I Go." The audience joined the cast for the finale sing-a-long to James Taylor's "You've Got a Friend," a fitting close to an evening that felt well spent with dear old friends.