With all the political rhetoric hitting the internet, the airwaves and the print media the past few months (it is a presidential election year after all), it is a joy to sit in a darkened theatre and listen to intelligent political discourse, even if it is only a playwright airing his views. Anthony Giardina's The City of Conversation is making its West Coast Premiere at the Bram Goldsmith Theatre at the Wallis in Beverly Hills. It features an all-star cast delivering at full throttle. Giardina's play premiered at New York's Lincoln Center in 2014, well before this year's contingent of presidential hopefuls began their ill-begotten race for the White House. Yet at times he seems to be voicing feelings about the presumptive Republican nominee, which makes the play and its themes even more relevant.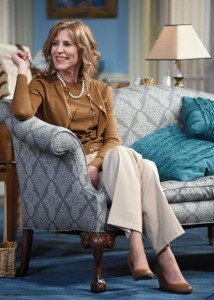 Christine Lahti (all photos by Kevin Parry)
The setting is the Georgetown home of political maven Hester Ferris (a stunning and dynamic Christine Lahti), when conversation over and after dinner often accomplishes more than filibustering on the Senate floor. The liberal widow has a married lover, the influential Senator Harris (Steven Culp) who sits on the important Judicial Committee. The First Act is set in 1979, on the verge of Teddy Kennedy's challenge to incumbent Democratic President Jimmy Carter. Ferris and Harris back Kennedy and attempt to sway a conservative Southern Senator (David Selby) to cast his vote on an important committee issue with Kennedy. Hester wasn't counting on her son Colin (a winning Jason Ritter) to show up a day early. And she really was not prepared for her son's fiancée Anna (a feisty Georgia King), a very outspoken Reagan Republican to scuttle her plans.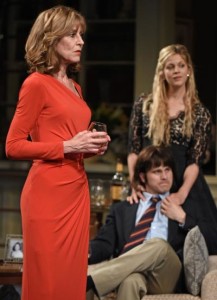 Christine Lahti, Jason Ritter and Georgia King
The Second Act is set in 1987 when the country and the Senate are in a turmoil over Reagan's nomination of conservative judge Robert Bork to the Supreme Court. The battle lines are drawn and no prisoners are taken as the fading liberal ideals of the 1960s battle for survival in the more conservative 1980s. Anna is now a leading conservative campaigner lobbying for Bork while Hester works behind the scenes to block his nomination. Quiet evenings of gentle persuasion have given way to threats and ultimatums. Politics outweighs family. What makes Giardina's script so special is that the women are the power players here, the men merely their pawns. Lahti and King make a great pair of combatants. The coda is set in 2009 as Washington and the USA gets ready to inaugurate their first African American President. Has Liberalism re-emerged and vanquished the Conservative agenda? This play leaves you with plenty to think about. And the upcoming November election might necessitate a third act.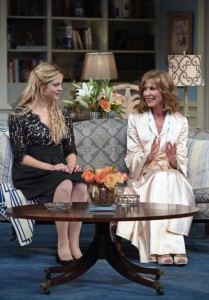 Georgia King and Christine Lahti
Michael Wilson has done a masterful job of directing the cast, making all the talk and speechifying sound realistic and not bombastic. Jeff Cowie has designed an elegant setting and David C. Woolard has designed some lovely costumes.

Wallis Annenberg Center for the Performing Arts, 9390 N. Santa Monica Blvd. in Beverly Hills. Ends June 4. Thewallis.org