Webster's defines gentrification as the process of renewal and rebuilding accompanying the influx of middle-class or affluent people into deteriorating areas that often displaces poorer residents. I'm not sure that description really applies to playwright G.D. Kimble's two short one-act plays appearing at the Hollywood Fringe Festival under the title of The Gentrification Cycle. There are some seeds of interesting ideas here but they need to be fleshed out and clarified. Now a lot of it is just a writer going for cheap laughs.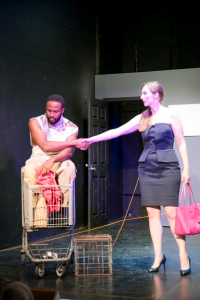 Jon Gentry and Allison Youngberg (photos by Lance Dawes Photography)
In Jen Tries Vacation Jen (Allison Youngberg) and her husband Finn (Brian Wallace), two white bread hipsters, find themselves lost in the seedier part of a major American city while looking for a trendy restaurant. The only person around is African American Reefer (Jon Gentry), an apparently homeless man living out of his shopping cart. A nice point is made about how we perceive people and the quick tendency for miscommunication. Finn only hears Reefer when he speaks "ghetto talk," otherwise Finn just hears a disembodied voice speaking educated English. There are also the unexplained costume changes that Finn undergoes (pith helmet) and the twine he unravels throughout the theatre as he attempts to find a way out of the ghetto. Blissfully, it is short.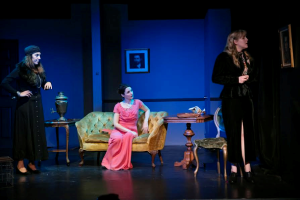 Claire Winters, Suzan Mikiel and Emily McLeod
Locomotive Repair in Three Easy Steps finds Chekhov's Three Sisters still far from Moscow and still bemoaning their boring lives, now without even men to pass the time with. Olga (Suzan Mikiel), Masha (Claire Winters) and Irina (Emily McLeod) meet for tea but their samovar is broken so out come the wine and the bitterness. Also broken is a Moscow bound train which Coveralls (Adam Tomei) attempts to fix while his supervisor Blueprint (Brian Wallace) talks on and on about the separation of the classes. This is one short one-act that goes on too long. Christina Cigala directed.

Dorie Theatre @ The Complex, 6476 Santa Monica Blvd. in Hollywood. June 9, 16, 23 & 24. www.hollywoodfringe.org