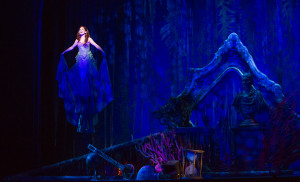 Alison Woods as The Little Mermaid (Courtesy of Bruce Bennett, Theatre Under the Stars)
Howard Ashman and Alan Menken's The Little Mermaid reinvigorated Disney's animated film division with its successful release in 1989. Their six original songs brought a Broadway like feel to the animation movie scene. In 2008 Disney, after achieving Broadway success with stage versions of their later animated films Beauty and the Beast and The Lion King, produced a stage version. Even though it ran a total of 685 performances, it was not considered a success and never generated a National Tour. Last year McCoy Rigby Entertainment and Mt. Beacon Productions, Inc. created a revised version of the show at Theatre Under the Stars in Houston and mounted a mini tour that has finally reached the McCoy Rigby beachhead in La Mirada Theatre. Doug Wright's book has expanded the 83 minute film to a full length musical while composer Menken and his new lyricist Glenn Slater have added about 10 new songs and a few reprises. Under Glenn Casale's inventive staging, the result is a delightful show for both children and adults.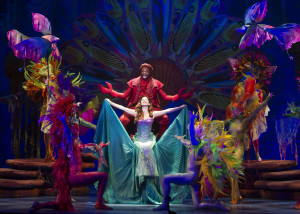 Alison Woods as Ariel and Melvin Abston as Sebastian "Under the Sea" (Courtesy of Bruce Bennett, Theatre Under the Stars)
The technical aspects are dazzling—Kenneth Foy's watery scenic design set off by Charlie Morrison's painterly lighting provides a great background for Amy Clark & Mark Koss's whimsical costumes. The talented cast, with their undulating body movements, give the impression of aquatic creatures in motion throughout. Julie Ferrin's sound design, Colin R. Freeman's musical direction and especially Paul Rubin's Flying Sequence Choreography add to the enjoyment. The story is well known from the Hans Christian Andersen story and the animated film—young mermaid falls in love with handsome prince, defies her father's wishes and signs a contract with a Sea Witch to trade her voice for legs. The large company of actors fleshes out their roles and provide laughs and thrills for the children in the audience as well as the child in all of us.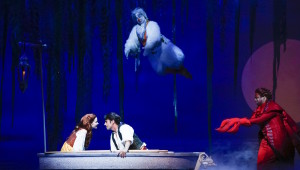 Alison Woods as Ariel, Eric Kunze as Prince Eric, Jamie Torcellini as Scuttle and Melvin Abston as Sebastian "Kiss the Girl" (Courtesy of Bruce Bennett, Theatre Under the Stars)
Alison Woods makes a lovely, feisty Ariel and possesses a strong singing voice. She is easily matched in voice and charm by Eric Kunze as Prince Eric, and their delightful, wordless courtship blossoms into True Love, a fairy tale staple. Lending strong support is Jamie Torcellini as Scuttle the Sea Gull. His Act Two opener, "Positoovity," with a chorus of tap dancing gulls is a real highlight. Melvin Abston effectively delivers the scores two big hit songs-"Under the Sea" and "Kiss the Girl." Tracy Lore is the catch of the day as she steals the spotlight as Ursula the Sea Witch, with arms to spare. Choreographer John MacInnis's staging of the reprise of "Les Poissons" is much too reminiscent of "Be Our Guest" from Beauty and the Beast. Or Disney may have dipped its feet into the animated film to stage pool once too often.

La Mirada Theatre for the Performing Arts, 14900 La Mirada Blvd. in La Mirada. Ends June 26. www.lamiradatheatre.com.