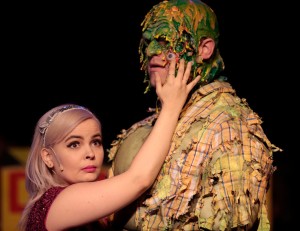 Kim Dalton and Jared Reed (all photos by Rich Clark)
The 1984 Troma film The Toxic Avenger achieved cult classic status on the midnight movie circuit for its low budget, campy concept and gruesome violence. A musical adaptation had an off-Broadway run of over 300 performances in 2009 and played everywhere from Toronto to Oahu. Now, thanks to Good People Theater Company and the Fringe Festival, Toxie has finally arrived in Hollywood. Joe DiPietro's book for The Toxic Avenger Musical keeps the campy charm of the film and his lyrics, written with David Bryan, are nonsensical and fun for the most part. Bryan's music ranges from rock to pop to Latin for a fun filled score.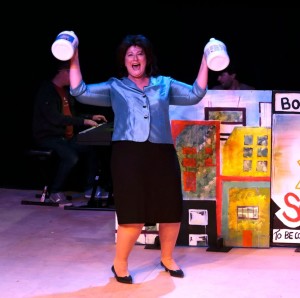 Shirley Anne Hatton
Melvin Ferd the Third (Jared Reed) is a nerd and aspiring scientist who vows to clean up the toxic dump that is smelling up his hometown of Tromaville, New Jersey. The evil Mayor Babs Belgoody (Shirley Anne Hatton) sics her goons (Danny Fetter and Wesley Tunison) on Melvin who rough him up before accidently dropping him into a vat of toxic goo. Out from the goo emerges the now superhero sized Toxic Avenger to wreak vengeance on the enemies of the environment. The goo bath also wreaks havoc on Melvin's budding romance with blind librarian Sarah.

Wesley Tunison and Danny Fetter
Janet Miller's direction keeps the action flowing smoothly and her five-person cast is perfection. Reed makes a nerdy Ferd but his super powered Avenger is a force to be reckoned with. Kim Dalton is sublime as the overly cute blind Sarah. The petite blonde is a real find, sort of L.A.'s very own Kristen Chenoweth and with the vocal prowess to match. These two make a dynamic duo as they explore their "Hot Toxic Love." Hatton is a vocal and comic powerhouse as the Mayor and Melvin's Jewish mother. Her duet with herself is a real hoot to behold. Fetter and Tunison, billed as Black Dude and White Dude, create a town full of characters from policemen to hairdressers to backup singers. Music Director Corey Hirsch and his five piece onstage band really rock the score. The Toxic Avenger is a campy musical comedy romp no matter what time of day you view it.

Sacred Fools Main Stage, 1076 Lillian Way in Hollywood. June 11, 13, 15, 16, 18, 22, 24,25, 26. http://www.hollywoodfringe.org/projects/3539