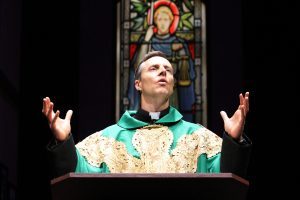 Michael Polak (all photos by Tracey Roman)
John Patrick Shanley's Doubt: A Parable won the Pulitzer Prize in 2005 along with a Tony Award for Best Play plus awards for leading actress Cherry Jones and Adriane Lenox for her devastating one-scene performance. The 2008 film version received Academy Award nominations for the playwright's script and for all four major performers—Meryl Streep, Philip Seymour Hoffman, Amy Adams and Viola Davis. The National Tour which launched in late 2006 featured Jones and Lenox in the cast but played the Ahmanson Theatre in Los Angeles and the Civic Theatre in San Diego, both venues much too large to experience the intimate drama of this tightly constructed play. The revival currently playing the intimate confines of Long Beach's International City Theatre really brings the drama into your comfort zone.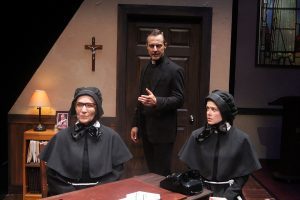 Eileen T'Kaye, Michael Polak and Erin Anne Williams
Shanley set his 90-minute four-character play in a Catholic school in the Bronx in 1964. The country was still reeling from the recent assassination of its first Catholic President, John F. Kennedy. The Second Vatican Ecumenical Council was still ongoing and modernizing the Catholic Church. Some priests and nuns welcomed the new openness, others opposed it. That is the background for Shanley's parable wherein the dogmatic, tyrannical principal of St. Nicholas Catholic School, Sister Aloysius (the commanding Eileen T'Kaye), goes to war against the young, progressive pastor of the church, Father Flynn (the jovial, ingratiating Michael Polak).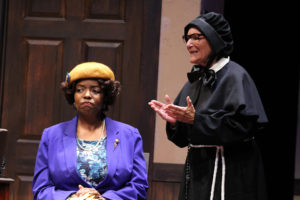 Tamika Simpkins and Eileen T'Kaye
The Catholic Church then, and pretty much still today, was a "man's world" and Sister can't confront Flynn or go over his head to voice her concerns about his questionable behavior with the school's first black student. She enlists the young and impressionable Sister James (Erin Anne Williams artfully conveying a range of emotions) in her plot. The battle of wills is forcefully raged in Shanley's precise and compact dialogue and in caryn desai's taut direction. Also pulled into the maelstrom is the boy's mother, Mrs. Muller (Tamika Simpkins is riveting in her solo scene). As Father Flynn illustrates in one of his Sunday sermons, gossip is like feathers cut loose from a pillow on a rooftop. Once released, it's difficult to gather them all back in one place. This production clearly leaves the audience in doubt as to who is telling the truth, the whole truth, the implied truth. And that is as it should be. Most things in life are not as clear cut black and white, or sober and severe as the nun's binding clothing and blind faith.

International City Theatre, 330 E. Seaside Way in Long Beach. Ends Sept. 11. 562-436-4610 or www.internationalcitytheatre.org