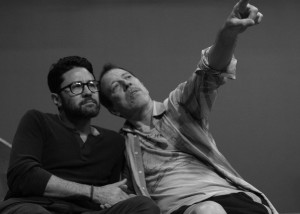 Justin Huen and John Fleck
"Summertime and the livin' is easy" goes the George Gershwin/DuBose Heyward song from the classic American opera Porgy and Bess. Well it's Summertime in David Greenspan's play Go Back To Where You Are, receiving its West Coast Premiere by the Odyssey Theatre Ensemble. But the living isn't easy for the residents of a Long Island home and their gathered friends. It's the home of actress Claire (Shannon Holt) whose son Wally (Andrew Walke) is also in residence. Claire's playwright brother Bernard (Justin Huen) lives down the beach in the ancestral summer cottage. Claire's theatre family is also present—director Tom (Bill Brochtrup) and his designer lover Malcom (Jeffrey Hutchinson) and desperately needy actress Charlotte (Annabelle Gurwitch). Into this group is cast a 2000 year old Greek chorus boy, Passalus (John Fleck), sent from Hades by God (Hutchinson in a hoodie) to help these lost souls find their way and to get redemption for himself.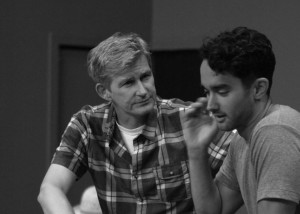 Bill Brochtrup and Andrew Walke
Greenspan's writing is highly theatrical, having the characters freeze in place while one of them relays his secret thoughts to the audience, constantly breaking the fourth wall. Bart DeLorenzo's staging is simple and the result is near nirvana. It's not a play for everyone but those intrepid theatregoers who enjoy adventuresome theatre should delight in the wordplay on display here. The acting is top drawer all the way with Fleck being the standout. He instantly switches characters from an old woman (the way the bulk of the cast sees him) and his true self that he exposes only to Bernard. Bernard and Wally have both lost their gay partners and are still trying to move on while Tom and Malcom seem to be irrevocably moving apart. After giving up hope of every leaving Hades, let alone finding love, Passalus is delighted by his change of fortune. Go Back to Where You Are is a gentle comedy for a summer day and its 75 minutes float by effortlessly.

Odyssey Theatre, 2055 S. Sepulveda Blvd. in Los Angeles. Ends Sept 4. 310-477-2055 or odysseytheatre.com